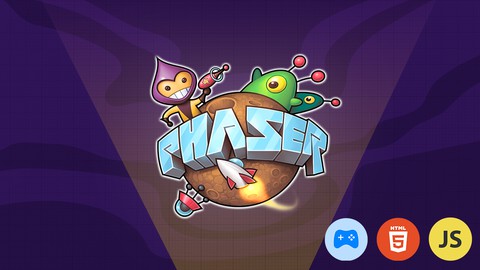 Game Development in JS – The Complete Guide (w/ Phaser 3)
Start building your own games and publish them on Facebook. Learn how to create HTML5 games in Javascript with Phaser 3.
Created by Filip Jerga, Eincode by Filip Jerga | 21.5 hours on-demand video course
Phaser is a framework for creating HTML based games in Javascript. It's very simple to use and get started with. It provides a full set of features to create professional games ready to be published on different platforms. Such as Facebook Instant Games, IOS, or Android platforms. In this course, you will learn how to create your own games from scratch in Javascript with the Phaser framework. All concepts will be taught by creating real games which we are going to publish on Facebook Instant Games. You will get an understanding of concepts you can use in any other game development platform like Unity or Unreal engine.
What you'll learn
Developing games by creating the games
Fundamentals of game development
Use Javascript to develop games for Facebook
Publish your own game on Facebook Instant Games
Recommended Course by Filip Jerga
Next.js & React with ChatGPT – Development Guide (2023) [NEW COURSES]
Solid JS & Firebase – The Complete Guide (Twitter Clone App)
Vue JS 3 & Firebase – Full Guide [2022]
Rust & WebAssembly with JS (TS) – The Practical Guide
Solidity & Ethereum in React (Next JS): The Complete Guide
Complete Next.js with React & Node – Beautiful Portfolio App
Next.JS with Sanity CMS – Serverless Blog App (w/ Vercel)
The Complete Vue JS Developer Course – inc. Vue JS 2!
Next.js and Apollo – Portfolio App (w/ React, GraphQL, Node)
Electron & React JS: Build a Native Chat App with Javascript
Gatsby JS Developer's Guide – Important Parts & Blog App
React JS & Firebase Complete Course (incl. Chat Application)
Udemy Promotional Code - May 2023
This will also bring up a list of coupons and promo codes that you can use to get a discount on Udemy courses
Learn Data Science. Courses starting at $12.99.
Promotion Dates: 05/01/2023 - 06/01/2023
Clicks to
Redeem Udemy Coupon