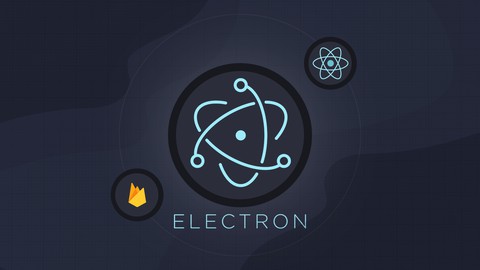 Electron & React JS: Build a Native Chat App with Javascript
Learn how to build a chat app with Electron & React. Utilize JS, Html, CSS + Firebase(DB) to create a fully native app
Created by Filip Jerga, Eincode by Filip Jerga | 15 hours on-demand video course
You are going to learn what Electron JS is and what features it offers. We will learn basic concepts like the main and renderer process among many others. The UI part of the application will be handled by React Library, we will install React and we will prepare Webpack which will be responsible for bundling of our source files.
Electron: If you can build a website, you can build a desktop app. Electron is a framework for creating native applications with web technologies like JavaScript, HTML, and CSS. It takes care of the hard parts so you can focus on the core of your application.
React JS: React makes it painless to create interactive UIs. Design simple views for each state in your application, and React will efficiently update and render just the right components when your data changes.
Firebase: Firebase gives you functionality like analytics, databases, messaging, and crash reporting so you can move quickly and focus on your users.
What you'll learn
Understand how Electron JS works
Create a "real-life" chat application
Create native apps with Javascript, Html + CSS
Lean how to use React JS in combination with Electron
Recommended Course by Filip Jerga
Next.js & React with ChatGPT – Development Guide (2023) [NEW COURSES]
Solid JS & Firebase – The Complete Guide (Twitter Clone App)
Vue JS 3 & Firebase – Full Guide [2022]
Rust & WebAssembly with JS (TS) – The Practical Guide
Solidity & Ethereum in React (Next JS): The Complete Guide
Game Development in JS – The Complete Guide (w/ Phaser 3)
Complete Next.js with React & Node – Beautiful Portfolio App
Next.JS with Sanity CMS – Serverless Blog App (w/ Vercel)
The Complete Vue JS Developer Course – inc. Vue JS 2!
Next.js and Apollo – Portfolio App (w/ React, GraphQL, Node)
Gatsby JS Developer's Guide – Important Parts & Blog App
React JS & Firebase Complete Course (incl. Chat Application)
Udemy Promotional Code - September 2023
This will also bring up a list of coupons and promo codes that you can use to get a discount on Udemy courses
Get ahead, stay ahead. Online courses as low as $13.99.