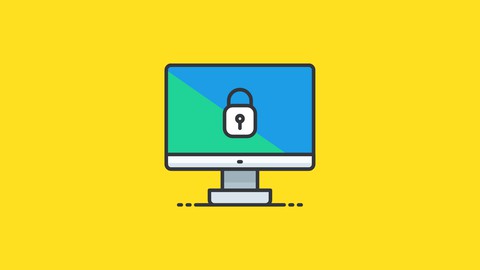 A Complete Cyber Security Guide For Beginners 2023
Become a Cyber Security Expert, Learn to fight Black Hat Hackers, Protect Yourself, Analyze and Destroy Malwares
Created by 7 Defence | 15 hours on-demand video course
Welcome to "A Complete Cyber Security Guide For Beginners 2023 "! We assume you have NO prior knowledge in the field of cyber security and hacking. But No Worries! by the end of it you'll be able to fight black-hat hackers and secure system like security experts!
In this course, you will learn everything you need to know about cyber security….not only technical details but also career paths. This course covers all of the important topics you will learn from the basic of cyber security to earning money from cyber security + I will share my experience of real life SCAMMERS and how to cleverly outwit them! + I'll show you ways to EARN money ethically in the field of cyber security.
This course is taught by Dhabaleshwar Das the CEO and Founder of 7 Defence (Which is a leading company in the field of Information Security). This course will focus on topics like Vulnerabilities, Malwares, Encryption, WordPress Security, Google Dorks & Google Hacking Database, Digital Certificates, Social Engineering, Phishing, Scammers, Hacking, Earning money in the field Of Cyber Security etc.
What you'll learn
Practical ways for beating all online threats: Elite Hackers, Malware, Surveillance, Spywares etc.
Free $199 70+ PDF Resources in this course!
Latest up-to-date information and methods.
Tonnes of interesting FREE materials and resources from 7 DEFENCE.
Learning about the most dangerous hacking attacks and their prevention.
Understanding the real meaning and importance of Cyber Security & Internet Security.
Learning new techniques used by professionals- NIST Cyber Security Framework, Zero Trust Model etc.
Learning & Analyzing the most dangerous Security Bugs and Vulnerabilities.
Understanding basic concepts and terminologies used in Cyber Security.
Learn how to keep your kids and parents safe from cyber criminal actions.
Understand how cyber attacks work, How to avoid virus infections and How you can foil their malicious consequences.
Learning About Spyware , Adware, Spoofing, Scareware, Browser Hijacking, Phishing, Vishing, Smishing, MITM, BFA (Brute Force Attack), Spamming, Doxing and a lot more interesting stuff.
Recommended Course
Implementing the NIST Cybersecurity Framework
The Complete Web Penetration Testing & Bug Bounty Course
Udemy Promotional Code - September 2023
This will also bring up a list of coupons and promo codes that you can use to get a discount on Udemy courses
The skills for now — now on sale. Online courses from $14.99.
Promotion Dates: 09/21/2023 - 09/22/2023
Clicks to
Redeem Udemy Coupon