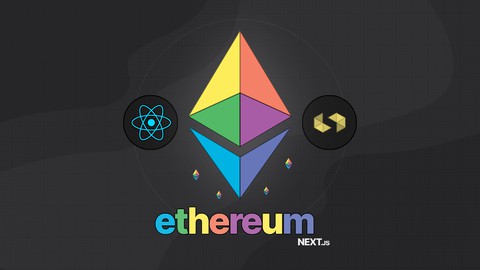 Solidity & Ethereum in React (Next JS): The Complete Guide
Create real Smart Contracts in Solidity and DApps with React & Next JS. Understand how the Ethereum blockchain works.
Created by Filip Jerga, Eincode by Filip Jerga | 38.5 hours on-demand video course
The course is covering everything you need to become a blockchain developer. Students of this course will learn what Ethereum blockchain is and how it works on the base level and from a developer's perspective. Students will learn what smart contracts are and how to create them. Smarts contracts are going hand in hand with dApps(decentralized apps). The course is covering them as well. The frontend for dApps covered in the course was used React library and Next JS framework. CSS and design are built with the help of Bulma and Tailwind frameworks. Two real-world applications are created in the course. Every part of application creation is well explained and documented.
What you'll learn
Create real-life apps on the blockchain.
Build Smart contracts and DApps with ease.
Understand complex Ethereum topics in practical and fun way
Get complete toolkit to work with any blockhain.
Recommended Course by Filip Jerga
Solid JS & Firebase – The Complete Guide (Twitter Clone App) [NEW COURSES]
Vue JS 3 & Firebase – Full Guide [2022]
Rust & WebAssembly with JS (TS) – The Practical Guide
Game Development in JS – The Complete Guide (w/ Phaser 3)
Complete Next.js with React & Node – Beautiful Portfolio App
Next.JS with Sanity CMS – Serverless Blog App (w/ Vercel)
The Complete Vue JS Developer Course – inc. Vue JS 2!
Next.js and Apollo – Portfolio App (w/ React, GraphQL, Node)
Electron & React JS: Build a Native Chat App with Javascript
Gatsby JS Developer's Guide – Important Parts & Blog App
React JS & Firebase Complete Course (incl. Chat Application)
Udemy Promotional Code - March 2023
This will also bring up a list of coupons and promo codes that you can use to get a discount on Udemy courses
The skills for now — now on sale. Online courses from $13.99
Promotion Dates: 03/21/2023 - 03/24/2023
Clicks to
Redeem Udemy Coupon