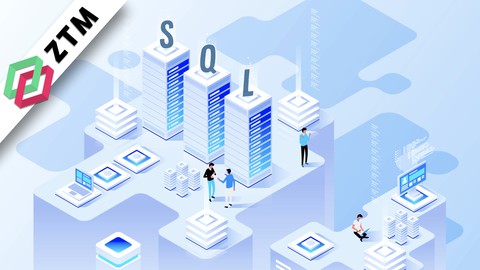 Complete SQL + Databases Bootcamp: Zero to Mastery [2021]
Master SQL, Database Management & Design and learn to work with databases like PostgreSQL, MySQL + more. With Exercises!
Created by Andrei Neagoie, Mo Binni | 24 hours on-demand video course
Just launched with all modern SQL and Database (PostgreSQL, MySQL) features for 2021! Join a live online community of over 300,000+ students and a course taught by industry experts that have actually worked both in Silicon Valley and Toronto managing databases. This is one of the most in demand tech skills in the world right now with SQL being used for many years to come (it has been around since the 1970s and going stronger than ever)!
What you'll learn
Become an expert in SQL and Database Concepts
Undrstand SQL vs NoSQL, MongoDB vs MySQL vs PostgreSQL
Add SQL, PostgreSQL, MySQL, Redis, Database Management/Design to your resume
Learn to perform efficient and performant SQL queries using best practices
Learn how Machine Learning, Data Science and Data Engineers use Big Data and databases
Apply for SQL developer, Database Administrator, Business Analyst, Backend Developer and Business Intelligence roles
Use the right SQL features to work with data efficiently and solve database problems
Database best practices to design and manage your company data
Learn to make business and market decisions based on user data
Learn how to scale databases by using things like Sharding, Replication, etc…
Create your own databases while using SQL to interact with the data
Use real-world data to generate insights and reports using SQL
Tons of exercises to practice what you learn and test your knowledge
Help Sales/Marketing/Product managers make better decisions based on data analysis
Advanced SQL topics like indexes, aggregates, caching to make your database queries efficient
Learn how databases are used in Web & Mobile Applications, Machine Learning and other fields
Learn how to handle user passwords and keep data safe
Work with SQL across multiple tables and multiple databases
Learn to use Redis for fast memory storage
Master SQL joins
Recommended Course by Andrei Neagoie
Complete React Native in 2021: Zero to Mastery [with Hooks] [NEW COURSES]
Complete Ethical Hacking Bootcamp 2021: Zero to Mastery [NEW COURSES]
Master the Coding Interview: Big Tech (FAANG) Interviews
JavaScript Web Projects: 20 Projects to Build Your Portfolio Resume
Deno The Complete Guide in 2021: Zero to Mastery
The Complete Web Developer in 2021: Zero to Mastery
Complete Machine Learning and Data Science: Zero to Mastery
Advanced JavaScript Concepts: Gain Modern JS Developer Skills
Complete React Developer in 2021 (w/ Redux, Hooks, GraphQL)
The Complete Junior to Senior Web Developer Roadmap (2021)
Master the Coding Interview: Data Structures + Algorithms
Udemy Coupons & Promo Code April 2021

Invest in you. Future-ready skills start at $11.99

Region: Global

GET THIS OFFERS