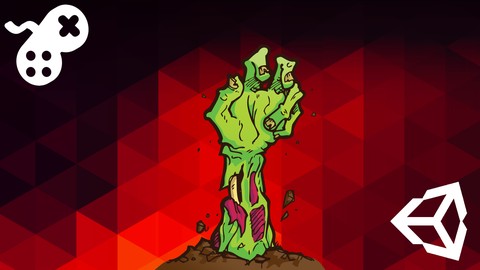 The Complete Unity Game Development Course
Create Your Own First Person Shooter Zombie Game
Created by Codestars by Rob Percival, Penny de Byl | 20 hours on-demand video course
Getting started in game development doesn't have to be scary. All you need is the passion to learn and an inquisitive, experimental nature for combining code, animation, graphics, artificial intelligence, art and audio. Sounds like a lot? It is, but when you see how you as a solo developer can bring it all together there's a touch of magic in the air.
Unity is the number one game development engine due to its ease of use and yet powerful abilities. It works on all platforms and can export to desktop, console and mobile devices. It's a great way for the beginner to jump straight into the world of game development and get their hands on the tools used by AAA game studios to produce games such as Hearthstone (Blizzard Entertainment), Cities: Skylines (Colossal Order) and Monument Valley 2 (ustwo Games) and best of all, for the beginner and hobbyist it is free!
What you'll learn
The Unity Game Engine Software
Creating and animating a first person character for use in an FPS
Animating humanoid models and NPCs
Artificial Intelligence techniques for defining the behaviour of non-player characters
Using particle systems to simulate fire, fog and blood
Using physics to develop a shooting mechanic with rag doll animations
Unity's Canvas to develop an integrated heads up display with maps, radar and compass
How to create pickup items with colliders and triggers
Add position checkpoints to save player locations
Add dynamic visual and audio special effects
Unity's Terrain Sculpting System for developing game maps
How to use lighting to enhance a game environment
Post Processing Techniques to enhance the look of a game environment
How to build a standalone game from Unity
Recommended Course by Penny de Byl
Learn 3D Pathfinding with Octrees [NEW COURSES]
Learn OpenGL with Python for Graphics and Games [NEW COURSES]
Learn to Program & Model Procedural Cities in Unity/Blender
Mathematics for Computer Games Development using Unity
Learn Advanced AI for Games with Behaviour Trees
The Beginner's Guide to Artificial Intelligence in Unity.
Create a Third-Person Player Character Controller
Udemy Promotional Code - September 2023
This will also bring up a list of coupons and promo codes that you can use to get a discount on Udemy courses
Learn Network & Security. Get complete video courses for as low as $12.99.
Promotion Dates: 09/01/2023 - 10/01/2023
Clicks to
Redeem Udemy Coupon