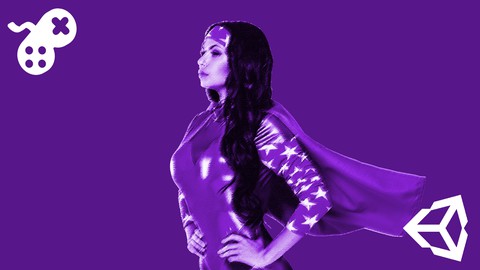 Create a Third-Person Player Character Controller
Learn Mixamo and Unity's Mecanim system for constructing and programming your own third-person game character.
Created by Penny de Byl, Penny at @Holistic3D.com | 6.5 hours on-demand video course
Any self-respecting game developer knows that getting their third-person player character right is one of the fundamental keys to a great gaming experience. Not only this but the controller, once developed, can be transferred from one game to another, making the code reusable and scalable. In this course, you will learn how to put together your own third-person character from scratch using freely available 3D models and animations, which you will learn how to control with C# in Unity. The idea behind this course is to take students through a series of workshops with the necessary tools to help them make a character, animate a character and program a character without the need of being able to model or animate and gain an understanding of the third-person character controller pipeline.
This course uses Unity 2020.1 or 2020.2, Input System 1.0, and Cinemachine 2.6.3. This course focuses on the building of typical third-person character functionality including jumping, falling, weapon handling, shooting, and taking damage. By the end of this course, you will have a great third-person character controller that you can use in your own games or adapt for customized situations.
What you'll learn
How to rig and animate a 3D character from a pre-existing library of high quality, motion captured animations.
How to create a state machine of character animations that are controlled via user input.
How to implement the Unity Input System.
How to use Cinemachine to create a character following camera.
How to program from scratch a third-person player character controller for a game environment.
Recommended Course by Penny de Byl
Learn 3D Pathfinding with Octrees [NEW COURSES]
Learn OpenGL with Python for Graphics and Games [NEW COURSES]
Learn to Program & Model Procedural Cities in Unity/Blender
Mathematics for Computer Games Development using Unity
Learn Advanced AI for Games with Behaviour Trees
The Beginner's Guide to Artificial Intelligence in Unity.
The Complete Unity Game Development Course
Udemy Promotional Code - September 2023
This will also bring up a list of coupons and promo codes that you can use to get a discount on Udemy courses
Learn Network & Security. Get complete video courses for as low as $12.99.
Promotion Dates: 09/01/2023 - 10/01/2023
Clicks to
Redeem Udemy Coupon