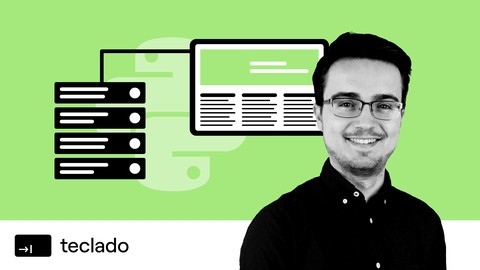 The Complete Python/PostgreSQL Course 2.0
Take the next step in your Python development by leveraging the power of PostgreSQL and databases!
Created by Codestars by Rob Percival, Jose Salvatierra, Teclado by Jose Salvatierra | 13.5 hours on-demand video course
Master PostgreSQL and use it in your Python apps with this course! Python and PostgreSQL are two of the most in-demand skills in the world. After completing this course, you'll be confident in adding both to your resume/CV.
In addition, all the database knowledge you'll gain in this course is easily transferable to other databases such as MySQL, Microsoft SQL Server, Amazon Redshift, Oracle, and others! The focus of this course is on fully understanding PostgreSQL, and effectively integrating it with your Python applications. If you're a Python developer or you use Python at all, you're going to love this course!
You will:
Add data storage to your Python apps with in-memory databases, SQLite, and PostgreSQL.
Understand when and why you might want to use different types of databases in your applications.
Build a programming journal project to learn how to add a SQLite database to your application.
Create a movie watch-list app to explore how to improve your database design over time, as well as how to model different types of relationships.
Migrate the movie watch-list app to PostgreSQL to identify the differences between PostgreSQL and SQLite.
Build a polling app to learn about advanced data analysis with GROUP BY, PostgreSQL window functions, and nested queries.
Extend the polling app to work with dates and times, including how to avoid common timezone pitfalls.
Learn how to structure Python apps professionally, to make development easy when working with databases.
Explore advanced SQL and PostgreSQL concepts such as user-defined functions, stored procedures, locking, and async database connections with Python.
Take all your knowledge and apply it to produce data analysis reports and charts using matplotlib.
Recommended Course by Jose Salvatierra
Mastering REST APIs with FastAPI [NEW COURSES]
Web Developer Bootcamp with Flask and Python in 2023
REST APIs with Flask and Python in 2023
The Complete Python Course | Learn Python by Doing in 2023
Automated Software Testing with Python