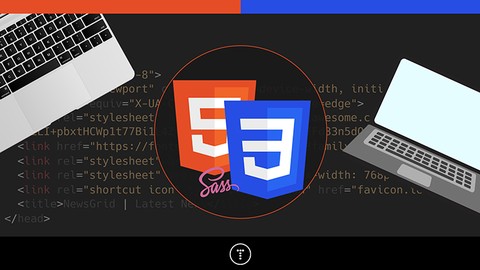 Modern HTML & CSS From The Beginning (Including Sass)
Build modern responsive websites & UIs with HTML5, CSS3 & Sass! Learn Flex & CSS Grid
Created by Brad Traversy | 21 hours on-demand video course
This course is for both beginners and seasoned developers that want to learn how to build responsive websites and user interfaces with modern HTML5 and CSS3+ technologies like Flexbox and CSS Grid as well as the Sass pre-compiler. This course includes hours of both learning & studying sections along with real life projects. Stop having to rely on frameworks like Bootstrap for your user interface and learn how to create your own layouts and utility classes to build custom responsive websites and app UIs.
The first few sections are tailored for beginners so even if you have never built anything before, you will learn all of the basics. If you already have experience with basic HTML & CSS, just move to section 3 or 4 and get started.
What you'll learn
Build Multiple High Quality Website & UI Projects
HTML5 Semantic Layout & CSS Fundamentals
Flexbox & CSS Grid Projects
CSS Variables, Transitions, Dropdowns, Overlays & More
Website Hosting & Deployment With FTP & Git
All Skill Levels
Recommended Course by Brad Traversy
Freelance Mastery: For Web Developers & Designers [NEW COURSES]
50 Projects In 50 Days – HTML, CSS & JavaScript
Tailwind CSS From Scratch | Learn By Building Projects
20 Web Projects With Vanilla JavaScript
MERN Stack Front To Back: Full Stack React, Redux & Node.js
Django with React | An Ecommerce Website
Electron From Scratch: Build Desktop Apps With JavaScript
Udemy Coupons - December 2022
Get Certified! IT Certification courses starting from $12.99.
Promotion Dates: 01/12/2022 - 01/01/2023
Clicks to
Redeem Udemy Coupon