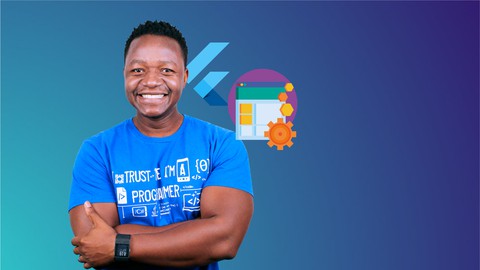 Flutter 2.0: Build Modern Responsive Web & Mobile Apps
Build Adaptive Apps – Web Apps, iOS, Android & Desktop Apps with a Single Codebase using Flutter 2.0 & Firestore
Created by Paolo Dichone | Android, Java, Flutter Developer and Teacher | 13.5 hours on-demand video course
Flutter Web is here! If you've wondered how to leverage your pre-existing Flutter/Dart development skills, then you'll be happy to know you now can build dynamic, scalable, and adaptive web apps (iOS, Android, and Desktop) with Flutter! Flutter 2.0 is a big release – you can use Flutter and Dart to build adaptive web and desktop apps – all with a single codebase. In this course, you'll learn how to leverage Flutter 2.0 and Dart and build a capstone app called Book Tracker.
What you'll learn
Build Web Apps with Flutter 2.0 & Could Firestore
Build Adaptive, Dynamic Web Apps with Flutter 2.0
Master Advanced Flutter API's like Providers & Routing
Compile and Build iOS and Android App Using the same Flutter Web App Codebase
Learn How to Use FirebaseAuth to Authenticate Web App Users
Cutting Edge Flutter 2.0 Web App, iOS, Android and Desktop App Development Tools
Recommended Course by Paolo Dichone
AWS AppSync & Amplify with React & GraphQL – Complete Guide
gRPC [Node.js] MasterClass: Build Modern API & Microservices
AngularDart – Build Dynamic Web Apps with Angular & Dart
TornadoFX – Build JavaFX Applications With Kotlin
Udemy Promotional Code - May 2023
This will also bring up a list of coupons and promo codes that you can use to get a discount on Udemy courses
Learn Data Science. Courses starting at $12.99.
Promotion Dates: 05/01/2023 - 06/01/2023
Clicks to
Redeem Udemy Coupon