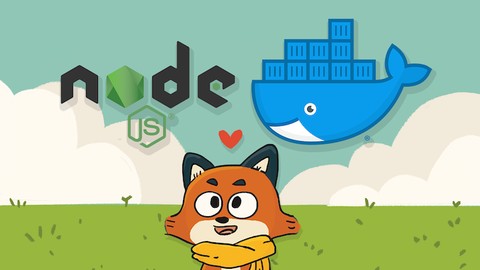 Docker for Node.js Projects From a Docker Captain
Build, test, deploy Node for Docker, Kubernetes, Swarm, and ARM with the latest DevOps practices from a container expert
Created by Bret Fisher, Docker Captain Program | 8 hours on-demand video course
Welcome to the best course on the planet for using Docker with Node.js! With your basic knowledge of Docker and Node.js in hand, Docker Mastery for Node.js is a course for anyone on the Node.js path. This course will help you master them together. Learn the cutting edge features of Docker in 2019 that will make your Node.js apps build faster, smaller, and run more securely and reliability. Containers and Node.js are two of the hottest and most popular topics in tech.
What you'll learn
Optimize your local development setup for NodeJS in Docker
Operate smoothly in a team of NodeJS developers using Docker and Compose
Improve the speed and reliability of your Node builds and testing using Docker
Get the best NodeJS tweaks to use for dev, test, and prod
Design NodeJS images for use with Kubernetes and Swarm
Learn about security scanning and locking-down your NodeJS apps
Recommended Course by Bret Fisher
Docker Swarm Mastery: DevOps Style Cluster Orchestration
Docker Mastery: with Kubernetes +Swarm from a Docker Captain
Kubernetes Mastery: Hands-On Lessons From A Docker Captain
Udemy Promotional Code - September 2023
This will also bring up a list of coupons and promo codes that you can use to get a discount on Udemy courses
Learn Network & Security. Get complete video courses for as low as $12.99.
Promotion Dates: 09/01/2023 - 10/01/2023
Clicks to
Redeem Udemy Coupon