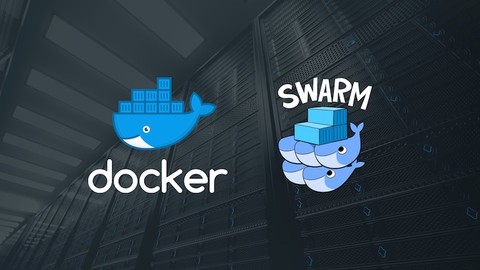 Docker Swarm Mastery: DevOps Style Cluster Orchestration
Build, automate, and monitor a server cluster for containers using the latest open source on Linux and Windows
Created by Bret Fisher, Docker Captain Program | 9.5 hours on-demand video course
2021 Update: Ready for Apple Silicon (M1 arm64) and Raspberry Pi's! Welcome to the most complete and up-to-date course for learning SwarmKit and using Docker Swarm end-to-end, from development and testing, to deployment and production. Discover how easy and powerful Docker Swarm Mode multi-host orchestration can be for your applications. This course is taught by a Docker Captain and DevOps consultant who's also a bestselling Udemy author. Are you just starting out with container orchestration? Perfect. This course starts out assuming you're new to Swarm and starts with how to install and configure it. Or: Are you using Docker Swarm now and need to deal with real-world problems? I'm here for you! See my production topics around storing secrets, controlling rolling updates, events, healthchecks, and more.
What you'll learn
Create a multi-node highly-available Swarm cluster on Linux and Windows.
Remotely orchestrate complex multi-node systems from macOS, Windows, or Linux.
Update your containers using rolling updates, healthchecks, and rollbacks.
Ensure zero-downtime updates by understanding service startup and shutdown details.
Recommended Course by Bret Fisher
Docker Mastery: with Kubernetes +Swarm from a Docker Captain
Docker for Node.js Projects From a Docker Captain
Kubernetes Mastery: Hands-On Lessons From A Docker Captain
Udemy Coupons - December 2022
Get Certified! IT Certification courses starting from $12.99.
Promotion Dates: 01/12/2022 - 01/01/2023
Clicks to
Redeem Udemy Coupon