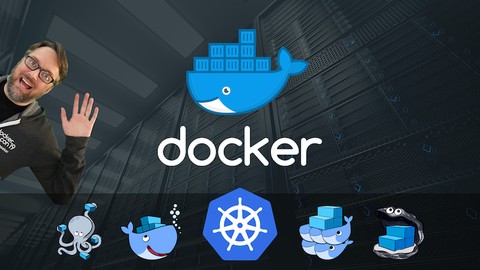 Docker Mastery: with Kubernetes +Swarm from a Docker Captain
Build, test, deploy containers with the best mega-course on Docker, Kubernetes, Compose, Swarm and Registry using DevOps
Created by Bret Fisher, Docker Captain Program | 19 hours on-demand video course
2022 Update: Refreshed install and config videos, and more support for Apple Silicon (M1 arm64) and Raspberry Pi's!
Be ready for the Dockerized future with the number ONE Docker + Kubernetes mega-course on Udemy. Welcome to the most complete and up-to-date course for learning and using containers end-to-end, from development and testing, to server deployments and production. Taught by an award-winning Docker Captain and DevOps consultant. Just starting out with Docker? Perfect. This course starts out assuming you're new to containers. Or: Using Docker now and need to deal with real-world problems? I'm here for you! See my production topics around Swarm, Kubernetes, secrets, logging, rolling upgrades, and more.
What you'll learn
How to use Docker, Compose and Kubernetes on your machine for better software building and testing.
Learn Docker and Kubernetes official tools from an award-winning Docker Captain!
Learn faster with included live chat group (40,000 members!) and weekly live Q&A.
Gain the skills to build development environments with your code running in containers.
Build Swarm and Kubernetes clusters for server deployments!
Hand's-on with best practices for making Dockerfiles and Compose files like a Pro!
Build and publish your own custom images.
Create your own custom image registry to store your apps and deploy in corporate environments.
Recommended Course by Bret Fisher
Docker for Node.js Projects From a Docker Captain
Kubernetes Mastery: Hands-On Lessons From A Docker Captain
Docker Swarm Mastery: DevOps Style Cluster Orchestration
Udemy Coupons - December 2022
Get Certified! IT Certification courses starting from $12.99.
Promotion Dates: 01/12/2022 - 01/01/2023
Clicks to
Redeem Udemy Coupon