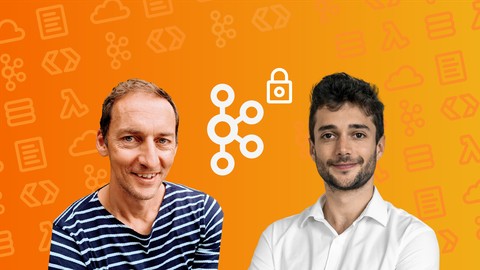 Apache Kafka Series – Kafka Security | SSL SASL Kerberos ACL
Hands-On Course – Kafka Security Setup in AWS with SSL Encryption & Authentication, SASL Kerberos, ACL in Zookeeper
Created by Stephane Maarek | AWS Certified Solutions Architect & Developer Associate, Gerd Koenig | 4 hours on-demand video course
If you've struggled setting up Kafka Security, or can't make sense of the documentation, this course is for you. In this course, you'll learn Kafka Security, with Encryption (SSL), Authentication (SSL & SASL), and Authorization (ACL). Over 1800 students and 160 reviews later, we're convinced this course can save you a lot of time. This course is the first and only available Kafka Security Course on the web. Get it now to become an Apache Kafka expert!
Note: This course only deals with SSL for encryption & Authentication and SASL Kerberos, not other mechanisms. It also does provide an overview to enable security in a multi-broker setup, but that last part is left for the student to investigate and practice.
What you'll learn
Setup and use SSL encryption in Kafka
Setup and use SSL authentication in Kafka
Setup and use SASL Kerberos authentication in Kafka
Create and use ACLs in Kafka
Configure Kafka Clients to make them work with security
Configure Zookeeper Security
Recommended Course by Stephane Maarek
Ultimate AWS Certified Security Specialty [NEW 2023] SCS-C01 [NEW COURSES]
Ultimate AWS Certified Developer Associate 2023 NEW DVA-C02
Ultimate AWS Certified Solutions Architect Professional 2023
Ultimate AWS Certified SysOps Administrator Associate 2023
[NEW] Ultimate AWS Certified Database Specialty 2023
AWS Certified Data Analytics Specialty 2023 – Hands On!
[NEW] Ultimate AWS Certified Cloud Practitioner – 2023
[NEW] AWS Certified Advanced Networking Specialty 2023
Apache Kafka Series – Learn Apache Kafka for Beginners v3
Apache Kafka Series – Kafka Streams for Data Processing
AWS Certified DevOps Engineer Professional 2023 – Hands On!
Ultimate AWS Certified Solutions Architect Associate SAA-C03
Udemy Promotional Code - March 2023
This will also bring up a list of coupons and promo codes that you can use to get a discount on Udemy courses
The skills for now — now on sale. Online courses from $13.99
Promotion Dates: 03/21/2023 - 03/24/2023
Clicks to
Redeem Udemy Coupon