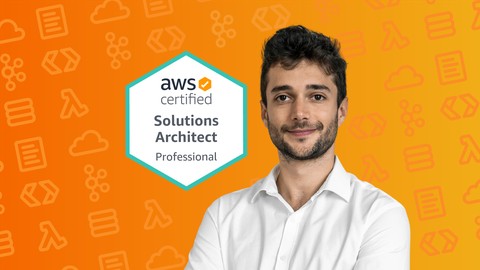 Ultimate AWS Certified Solutions Architect Professional 2020
Be AWS Certified Solutions Architect Professional certified. Full AWS Certified Solutions Architect Professional SAP-C01
Created by Stephane Maarek | AWS Certified Solutions Architect & Developer | 12 hours on-demand video course
The course is ALL SLIDES-BASED: No hands-on will be done during this course. If you're new to AWS, just finished AWS Certified Solutions Architect Associate and need to acquire some hands-on experience, I strongly recommend doing the following courses: AWS Certified Developer Associate, AWS Certified SysOps Administrator Associate, AWS Certified DevOps Engineer. The AWS Certified Solutions Architect Professional certification is one of the most challenging exams. It requires some substantial hands-on and real-world experience for you to pass. This course is going to help you solidify the knowledge you already have and put it in perspective through the study of various solutions architectures and services.
What you'll learn
PASS THE AWS Certified Solutions Architect PROFESSIONAL Certification
ALL 500+ SLIDES available as downloadable PDF
TO THE POINT course to help you ace your exam!
**SLIDES ONLY** – no hands-on for this course
Recommended Course
AWS Certified Big Data Specialty 2020 – In Depth & Hands On!
2020 AWS SageMaker, AI and Machine Learning – With Python
Udemy Coupons & Promo Codes: September 2020

*Plan on progress. Reach your goals. Udemy online courses from $11.99

Region: Global (Exclude: Japan)

ACTIVATED COUPON