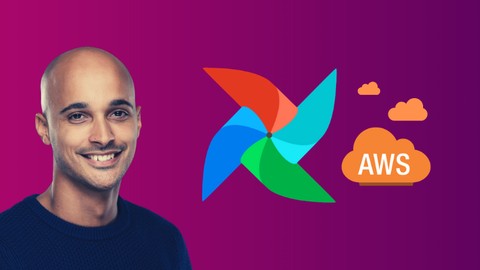 Apache Airflow on AWS EKS: The Hands-On Guide
How to set up Apache Airflow on AWS EKS with the Kubernetes Executor and be production-ready!
Created by Marc Lamberti | 9 hours on-demand video course
This course is designed to guide you through the different steps of creating a real world architecture:
Configuring the EKS cluster following best practices
Deploying automatically changes with GitOps
Using Helm to configure and set up Airflow on Kubernetes
Configuring the official Helm chart of Airflow to use the Kubernetes Executor and many different features
Deploying DAGs in Airflow with Git-Sync and AWS EFS
Deploying DAGs/Airflow through CI/CD pipelines with AWS CodePipeline
Testing your DAGs automatically
Securing your credentials and sensitive data in a Secret Backend
Enabling remote logging with AWS S3
Creating 3 different environments dev/staging and prod
Making the production environment scalable and highly available
and more!
What you'll learn
How to Set Up a Production Ready Architecture for Airflow on AWS EKS From A-Z
How to deploy DAGs from Git (public and private)
How to Create CI/CD Pipelines with AWS CodePipeline Deploy DAGs
How to Share DAGs and Store Logs with AWS EFS
How to Enable Remote Logging with AWS S3 in EKS
How to Test your DAGs in CI/CD pipelines
How to Store Sensitive Data in AWS Secret Manager
Recommended Course by Marc Lamberti
Apache Airflow: The Hands-On Guide
The Complete Hands-On Introduction to Apache Airflow
Apache Airflow: The Operators Guide
Udemy Promotional Code - September 2023
This will also bring up a list of coupons and promo codes that you can use to get a discount on Udemy courses
Get ahead, stay ahead. Online courses as low as $13.99.