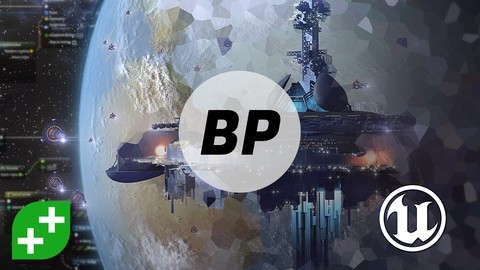 Unreal Engine Blueprint Game Developer
Code Your First Video Game in 100 minutes with Visual Scripting. Created in collaboration with Epic Games.
Created by Ben Tristem, GameDev.tv Team, Sam Patuzzi | 10.5 hours on-demand video course
This is the partner course to the Complete Unreal C++ Developer, one of the most popular Unreal courses on the web. In this course we focus on how to make games without writing traditional code by using Unreal Engine 4 and it's powerful visual coding system known as Blueprints. We will be starting this course off at a beginners pace so you will need no prior experience or knowledge of Unreal Engine 4 or game development. In the first section of this course you will have gone from not even having Unreal installed to making your first game: Marble Run! In fact, once you become more confident, you would be able to make Marble Run game in less that 15 minutes! That's how easy and powerful Unreal Blueprint
What you'll learn
Create simple complete games to share with friends.
Develop using the Unreal Engine 4 editor.
Learn to program using Blueprints, without needing to write code.
Create and package playable game projects.
Model basic levels in BSP.
Understand how to use the Unreal Editor interface.
Recommended Course by Ben Tristem
Blender Visual Effects – Real World Meets CG [NEW COURSES]
Complete C# Unity Game Developer 3D
Math For Video Games: The Fastest Way To Get Smarter At Math
Udemy Promotional Code - June 2023
This will also bring up a list of coupons and promo codes that you can use to get a discount on Udemy courses
Udemy Get Certified! IT Certification courses starting from $12.99
Promotion Dates: 06/01/2023 - 07/01/2023
Clicks to
Redeem Udemy Coupon