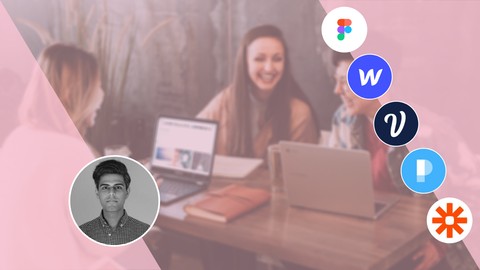 The Complete 'No Code' Developer Course: Build 11 Projects
Learn The Software Development Superpower In This Course! Learn How To Build A Range Of Products Without Writing Code.
Created by Codestars by Rob Percival, Ravinder Deol | 4.5 hours on-demand video course
This course would have saved me a lot of; confusion, money (I spent $5,000+ on a coding bootcamp – don't do the same) and wasted hours while on my journey of learning development. Go from zero to building up a portfolio of products, and gain lifetime access to the lectures, and worksheets this course has to offer you. For a small investment, you can re-ignite your passion for building and be sure never to waste your time again.
What you'll learn
How To Scrape Data From Websites – With No Code
How To Work With APIs – With No Code
How To Build Automations – With No Code
How To Create Bots – With No Code
How To Develop Voice Apps For Amazon's Alexa – With No Code
How To Build One Page Websites – With No Code
How To Develop Mobile Apps – With No Code
How To Build Membership Websites – With No Code
How To Monetise Your No-Code Skills
Recommended Course
JavaScript Web Projects: 20 Projects to Build Your Portfolio Resume
LeetCode In Python: 50 Algorithms Coding Interview Questions
Udemy Coupons & Promo Code 2021

*Make your life easier with our Office Productivity courses starting at $11.99 only.

Global (Exclude: Japan)

GET THIS OFFERS