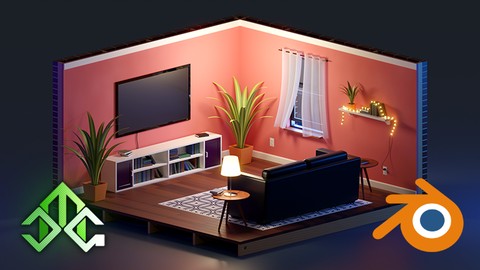 The Blender 2.8 Encyclopedia
Complete beginner-to-advanced guide for Blender 2.8 and 2.9
Created by Lee Salvemini, Chris Plush, CG Masters | 52 hours on-demand video course
Welcome to The Blender Encyclopedia, the most comprehensive training course available for Blender, a completely free and open source 3D production suite. Our aim with the course was to make an expanded version of the Blender Manual, that you can follow along or reference at any time in your 3D journey.
Further than the tools alone, we've made sure this course contains not just the how, but the why. Throughout the course, we've crafted example demos, as well as step by step projects, that will take what you've learned and form it into a practical example.
You can get all the Blender files used in the lectures, complete with models, textures and other resources. This includes starting files so you can join in! You can use these resource files in your own projects as well. Just open them up to see their license details, if any.
We have created this course specifically for Udemy, and you will have unlimited support from us in the Q&A section of each lecture. See you in the course, and happy blending!
What you'll learn
This is a comprehensive course for the free 3D modeling and animation package, Blender.
With this reference, you can confidently dive into Blender
You can watch this course from start to finish, or skip around.
Learn all the tools to create anything in 3D, and put it all into practice with step by step projects like modeling, shading, and rendering a 3D living room from start to
Recommended Course
Blender Character Creator v2.0 for Video Games Design
Blender Visual Effects – Real World Meets CG
Udemy Coupons - December 2022
Get Certified! IT Certification courses starting from $12.99.
Promotion Dates: 01/12/2022 - 01/01/2023
Clicks to
Redeem Udemy Coupon