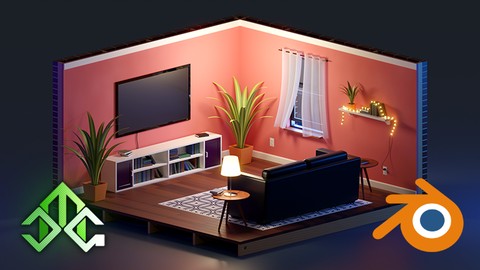 The Blender 2.8 Encyclopedia
The most complete beginner-to-advanced guide for Blender 2.8x
Created by Lee Salvemini, Chris Plush, CG Masters | 49.5 hours on-demand video course
Welcome to The Blender 2.8 Encyclopedia, the most comprehensive training course available covering all aspects of Blender 3D, a completely free 3D production suite. The newest release series, Version 2.8, is the biggest upgrade yet, with many new features and improvements.
With the tools and techniques covered in this course by CG Masters' lead instructors Christopher Plush and Lee Salvemini, you can take full advantage of this completely free & open source software to:
Create Your Own Video Game or Virtual Reality Assets (Do you have a game idea you'd like to create assets for? What about a stand-out character idea for VRChat?)
Effortlessly handle Animation, Film, and Television Productions (Blender features a full video editor, and advanced 2D & 3D compositing. Whether you have time to focus on the details for a fantastic short film, or need motion graphics for the next morning.)
3D Printing (A great way to impress everyone you know with a physical representation of your art. Also great for practical purposes like replacing tools or parts with your own custom design.)
Architectural, Industrial, and Product Visualization (Make your mark in these industries without multiple expensive software subscriptions, or long waits for bug fixes and upgrades.)
Music Videos & DJ'ing (Make the hit music video people have been waiting for, or light up the stage with your real-time visuals that change with the beat at your command.)
Even niche avenues like medical visualization, book illustration, and so many more.
Recommended Course
Blender for Complete and Total Beginners
The Ultimate Blender 3D Sculpting Course
Udemy Coupons & Promo Code April 2021

Invest in you. Future-ready skills start at $11.99

Region: Global

GET THIS OFFERS