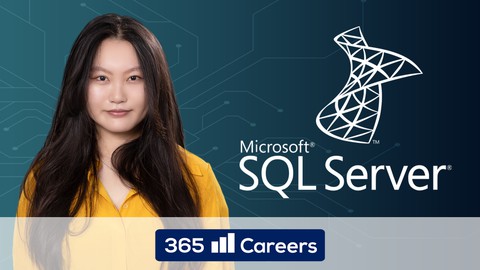 SQL for Tech and Data Science Interviews
Do you want to ace your SQL tech or data science interview? This Is the perfect resource for you!
Created by 365 Careers, Tina Huang | 2.5 hours on-demand video course
This course is one of the best resources you can choose to prepare yourself for the SQL interview you need, to land a job in tech and data science! Tina's 5-step framework will prepare you to tackle any SQL interview question. You will find out what interviewers want to hear from you. Learning how to interact with them is a fundamental skill you will need to master. Oftentimes, potential employers will challenge your assumptions and ask for your thoughts simply because they want to see how you deal with unexpected situations and challenges. You must find a way to keep the conversation going and know how to shrug off any mistakes you make throughout the interview! The goal of this course is for you to have done the SQL interview at least 10 times – so, when the real interview comes, it just feels like another practice round.
What you'll learn
Build a winning strategy for the tech/data science interview
How to focus on mock interviews
A guided walkthrough to a set of interview questions
Work on your communication skills and interview style
Tina's 5-step framework to acing your SQL interview
Know what SQL interviewers want to hear from you
Anticipate follow-up questions
Be able to demonstrate how you think and reason
Reduce interview stress by doing the 10 mock interviews provided in the course
Recommended Course
Complete SQL + Databases Bootcamp: Zero to Mastery [2021]
SQL and PostgreSQL: The Complete Developer's Guide
Udemy Promotional Code - May 2023
This will also bring up a list of coupons and promo codes that you can use to get a discount on Udemy courses
Learn Data Science. Courses starting at $12.99.
Promotion Dates: 05/01/2023 - 06/01/2023
Clicks to
Redeem Udemy Coupon