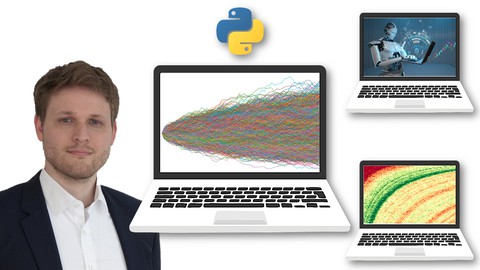 Performance Optimization and Risk Management for Trading
Generate Income and make a living with Day Trading / Algorithmic Trading. A quantitative & data-driven Python course.
Created by Alexander Hagmann | 19 hours on-demand video course
This unique course provides the skills, knowledge, and techniques required to (realistically!) answer that question. The course uses rigorous quantitative methods and is 100% data-driven (Python coding required!).
You will learn how to make use of the most powerful trading features and techniques:
Path-dependent Simulation techniques to find a sustainable level of Trading Income
Taking into account Taxation, Inflation and Shortfall Risk
Strategy Backtesting and Forward Testing
Strategy Optimization techniques (One/Many Parameter Optimization, Multi-Period Optimization, Smoothing, and more…)
Finding the optimal Degree of Leverage in Margin Trading (Kelly Criterion and more advanced techniques)
Improving Trading Performance and mange Risk with Stop Loss and Take Profits Orders
and more…
Recommended Course by Alexander Hagmann
Algorithmic Stock Trading and Equity Investing with Python [NEW COURSE]
Automated Cryptocurrency Portfolio Investing with Python A-Z
Cryptocurrency Algorithmic Trading with Python and Binance
The Complete Pandas Bootcamp 2023: Data Science with Python
Complete 2-in-1 Python for Business and Finance Bootcamp
Manage Finance Data with Python & Pandas: Unique Masterclass
Python Data Science with Pandas: Master 12 Advanced Projects
Python for Excel: Use xlwings for Data Science and Finance
Technical Analysis with Python for Algorithmic Trading
Algorithmic Trading A-Z with Python, Machine Learning and AWS
Udemy Promotional Code - September 2023
This will also bring up a list of coupons and promo codes that you can use to get a discount on Udemy courses
Get ahead, stay ahead. Online courses as low as $13.99.