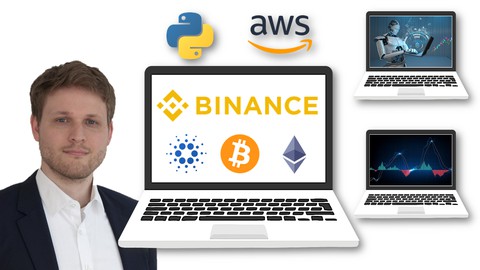 Cryptocurrency Algorithmic Trading with Python and Binance
Create powerful Trading Strategies and fully automated AWS Trading Bots for Bitcoin & co. | Spot and Futures Trading
Created by Alexander Hagmann | 36 hours on-demand video course
Welcome to the most comprehensive Algorithmic Trading Course for Cryptocurrencies. It´s the first 100% Data-driven Crypto Trading Course! Learn how some of the most successful Crypto Traders and Investors make Profits. In this rigorous but yet practical Course, we will leave nothing to chance, hope, vagueness, or pure intuition! And it´s the most detailed course on the Binance API. So what´s the ultimate goal of this course? Creating powerful and fully automated Crypto Trading Bots for Spot Trading and Futures Trading.
What you'll learn
Build automated Crypto Trading Bots with Python, Binance and Amazon Web Services (AWS)
Spot Trading and Futures Trading
Create powerful and unique Crypto Trading Strategies
Rigorous Testing of Strategies: Backtesting, Forward Testing and live Testing (Paper Trading)
Deep Dive into the Binance API (Spot & Futures)
Truly Data-driven Trading and Investing
Margin Trading (Leverage)
Understand Trading: Order Types, Commissions, Bid-Ask-Spread, Slippage, Liquidation, etc.
Load Historical Market Data (Price, Volume and more) from Crypto Spot & Futures Markets
Python Coding and Object Oriented Programming (OOP) in a way that everybody understands it
Coding with Numpy, Pandas, Matplotlib and Seaborn
Fully automate and schedule your Trades on a virtual Server in the AWS Cloud
Stream high-frequency real-time Cryptocurrency Data
Understand, analyze, control and limit Trading Costs
Recommended Course by Alexander Hagmann
Algorithmic Stock Trading and Equity Investing with Python [NEW COURSE]
Automated Cryptocurrency Portfolio Investing with Python A-Z
The Complete Pandas Bootcamp 2023: Data Science with Python
Complete 2-in-1 Python for Business and Finance Bootcamp
Manage Finance Data with Python & Pandas: Unique Masterclass
Python Data Science with Pandas: Master 12 Advanced Projects
Python for Excel: Use xlwings for Data Science and Finance
Performance Optimization and Risk Management for Trading
Technical Analysis with Python for Algorithmic Trading
Algorithmic Trading A-Z with Python, Machine Learning and AWS
Udemy Promotional Code - September 2023
This will also bring up a list of coupons and promo codes that you can use to get a discount on Udemy courses
Learn Network & Security. Get complete video courses for as low as $12.99.
Promotion Dates: 09/01/2023 - 10/01/2023
Clicks to
Redeem Udemy Coupon