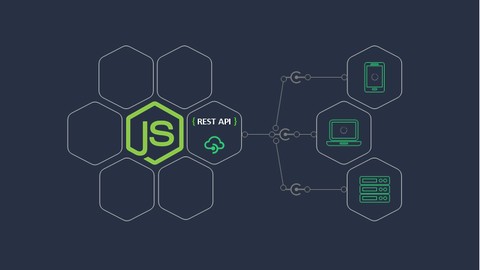 Node.js and Express REST API with Real World Projects
Learn How To Build Real World, Production Ready REST APIs Using Node. Js, Express, Sequelize, and JavaScript
Created by Ebenezer Ogbu | 14.5 hours on-demand video course
This is a no holds barred, action packed course, titled Node.js and Express REST API with Real World Projects. The course takes you through all you need to start building industry standard REST APIs using Node and Express. To demonstrate My Confidence About This Course, I have created a CV that contains all the Concepts that I covered, and the Projects I have executed in this course. You can Take This Course and Start Looking for Job Immediately using the CV I have prepared.
What you'll learn
Learn how Web APIs work
Learn how to implement REST API in Node and Express
Understand how to build production ready Web API using Node and Express
Learn how to analyse a customer's problem and generate the software requirements for the project
Learn how to structure a large-scale project
Learn how to implement all the functionalities of a complete ecommerce Web API which include: Product catalogue, Shopping Cart, Order and Checkout, Customer Management
Recommended Course
Node.js, Express, MongoDB & More: The Complete Bootcamp 2020
React, NodeJS, Express & MongoDB – The MERN Fullstack Guide
Udemy Promotional Code - May 2023
This will also bring up a list of coupons and promo codes that you can use to get a discount on Udemy courses
Learn Data Science. Courses starting at $12.99.
Promotion Dates: 05/01/2023 - 06/01/2023
Clicks to
Redeem Udemy Coupon