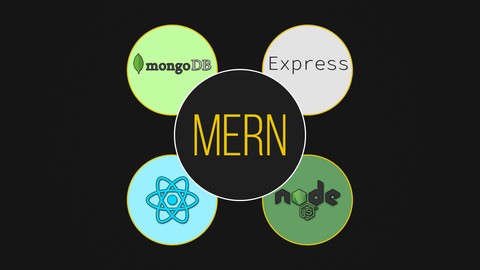 React, NodeJS, Express & MongoDB – The MERN Fullstack Guide
Build fullstack React.js applications with Node.js, Express.js & MongoDB (MERN) with this project-focused course.
Created by Academind by Maximilian Schwarzmüller, Manuel Lorenz | 18.5 hours on-demand video course
Building fullstack applications (i.e. frontend + backend) with the MERN stack is very popular – in this course, you will learn it from scratch at the example of a complete project! MERN stands for MongoDB, Express.js, React.js and Node.js – and combined, these four technologies allow you to build amazing web applications.
In this course, we'll build an entire project and you will learn how these different technologies work together step by step. We'll first have a look at all the individual building blocks, so that we then can also combine them all into one amazing application by the end of the course.
What you'll learn
Learn how to connect ReactJS with NodeJS, Express & MongoDB
Build an entire project from scratch!
Refresh the basics about ReactJS, NodeJS, Express and MongoDB
Learn how to implement Authentication & Authorization
Add File Upload to ReactJS + Node/ Express Applications
Recommended Course by Academind Maximilian Schwarzmüller
Remix.js – The Practical Guide [NEW COURSES]
GitHub Actions – The Complete Guide [NEW COURSES]
AWS Cloud Practitioner (CLF-C01) | Complete AWS Introduction
JavaScript Unit Testing – The Practical Guide
SQL – The Complete Developer's Guide (MySQL, PostgreSQL)
100 Days Of Code – 2023 Web Development Bootcamp
JavaScript – The Complete Guide 2023 (Beginner + Advanced)
Python Django – The Practical Guide [2023 Edition]
Angular & NodeJS – The MEAN Stack Guide [2023 Edition]
Flutter & Dart – The Complete Guide [2023 Edition]
NodeJS – The Complete Guide (MVC, REST APIs, GraphQL, Deno)
React Native – The Practical Guide [2023 Edition]
Docker & Kubernetes: The Practical Guide [2023 Edition]
MongoDB – The Complete Developer's Guide 2023
React 18 – The Complete Guide (incl Hooks, React Router, Redux)
CSS – The Complete Guide 2023 (incl. Flexbox, Grid & Sass)
Svelte.js – The Complete Guide (incl. Sapper.js)
Udemy Promotional Code - February 2023
This will also bring up a list of coupons and promo codes that you can use to get a discount on Udemy courses
New customer offer! Top courses from $14.99 when you first visit Udemy
Promotion Dates: 02/01/2023 - 02/28/2023
Clicks to
Redeem Udemy Coupon