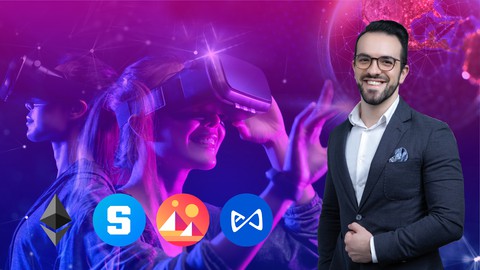 Metaverse Masterclass- Learn Everything about the Metaverse!
The 1st-ever Fun Masterclass about the Metaverse Technology & Investing – You Don't Want To Miss This!
Created by Henrique Centieiro | 3 hours on-demand video course
**This course has Professional Captions ** The latest buzzword is for sure this one: the Metaverse. Since Facebook rebranded as Meta in late October 2021, you hear about "the Metaverse" everywhere. However, how many of you actually know what the Metaverse is? Is it just another marketing gimmick for certain big corporations? Or is it going to be the next big thing in human history? I've decided to create this First-Ever Metaverse Masterclass after the huge success of my other 2 Best-Selling and Highest-Rated courses – "The Complete NFT Course – Learn Everything About NFTs" & "NFT Investing Masterclass – Pro-Tips about NFT Investing", to bring you all you need to know about the potential next big thing after the internet in human history- The Metaverse!
What you'll learn
What is the Metaverse?
How Gaming + Web 3.0 + Blockchain are Changing the Internet
How NFTs are Unlocking the Metaverse Potential
Industries Disrupted by the Metaverse: Fashion, Marketing, Brands, Finance, Gaming,
Architecture, Virtual Shows/Concerts, Art Galleries and Museums
The Different Shapes of the Metaverse: Games, NFTs (assets), Blockchain Protocols, Cryptocurrencies, etc
Virtual Reality (VR) and Augmented Reality (AR), Mixed Reality (MR) and Extended Reality (XR)
Metaverse Interfaces: Personal Computer, Mobile Phone, AR Glasses, VR Goggles, Neuralink
Blockchain Protocols and Platforms Involved in the Metaverse
Metaverse-Related Tokens
Investing In the Metaverse and Profit
Asset Classes Inside the Metaverse
Metaverse Land Ownership – Property Investment
Recommended Course
Cryptocurrency Algorithmic Trading with Python and Binance
Building an Ethereum Blockchain App: The Total Course
Udemy Promotional Code - June 2023
This will also bring up a list of coupons and promo codes that you can use to get a discount on Udemy courses
Udemy Get Certified! IT Certification courses starting from $12.99
Promotion Dates: 06/01/2023 - 07/01/2023
Clicks to
Redeem Udemy Coupon