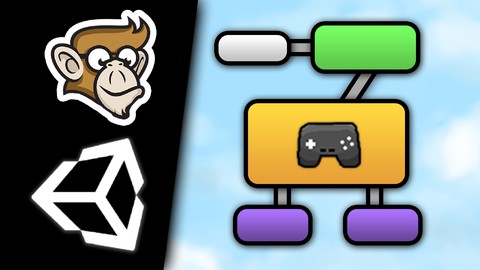 Make Games without Code? Master Visual Scripting in Unity!
Learn to make awesome games without Coding!
Created by Code Monkey | 21 hours on-demand video course
Hello and Welcome! I'm your Code Monkey and in THIS course you will learn how to make Games without writing any code! This course features multiple games all made completely using Unity Visual Scripting and without a single line of code. I specifically designed it to include multiple games so you can learn to use Visual Scripting and apply it to any genre you can think of. With the knowledge you will learn from this course you will then be able to make any game you want!
What you'll learn
Learn from a Professional Indie Game Developer
Learn how to make games without writing code!
Students will learn how to make several complete games from start to finish
Learn Visual Scripting, Shader Graph, Particle System, UI, Game Design, and more!
Recommended Course
Unity Dialogue & Quests: Intermediate C# Game Coding
Mathematics for Computer Games Development using Unity
Udemy Promotional Code - September 2023
This will also bring up a list of coupons and promo codes that you can use to get a discount on Udemy courses
The skills for now — now on sale. Online courses from $14.99.
Promotion Dates: 09/21/2023 - 09/22/2023
Clicks to
Redeem Udemy Coupon