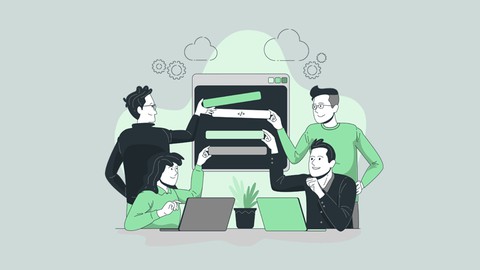 Laravel 8 – Advance Course Build School Management System
In This Course, You Will Learn Laravel 8 Fundamentals With Project and Complete Advance School Management System Project
Created by easy Learning, Kazi Ariyan | 58 hours on-demand video course
Laravel is an open-source PHP framework, which is robust and easy to understand. It follows a model-view-controller design pattern. Laravel reuses the existing components of different frameworks which helps in creating a web application. The web application thus designed is more structured and pragmatic. This is complete Project base course. You will build three different project. One will be Dynamic Company Website. Jetstream Authentication A-Z and Complete School Management System Software. This complete three project course which beings you to Beginner to Advance level. You will able to understand how to complete projects, how to handle project bugs, Core structures of MVC and much more.
What you'll learn
Create Complete School Management System Project with Laravel 8
Laravel 8 A-Z Basic Fundamentals
Laravel 8 Multi Auth with Jetstream Fortify
Adding Professional Theme
Multiple CRUD Function
Adding Toster in Project
Change Password Option
Dynamic Company Website
Three Different Projects
Advance Manage User Option
Advance Manage User Profile Option
Student Registration Management
Student PDF Generate
Students Roll Generate
Employee Registration
Employee Leave Management
Manage Employee Salary Increment
Employee Attendance Management
Manage Employees Salary
Employee Attendance Report
Students ID Card Generate
Manage Students Result
Multiple JavaScript Functions
Handlebars JS Functions
Recommended Course
Laravel 8 PHP Framework A – Z Build Professional Ecommerce
Master Laravel PHP for Beginners and Intermediate
Udemy Promotional Code - May 2023
This will also bring up a list of coupons and promo codes that you can use to get a discount on Udemy courses
Learn Data Science. Courses starting at $12.99.
Promotion Dates: 05/01/2023 - 06/01/2023
Clicks to
Redeem Udemy Coupon