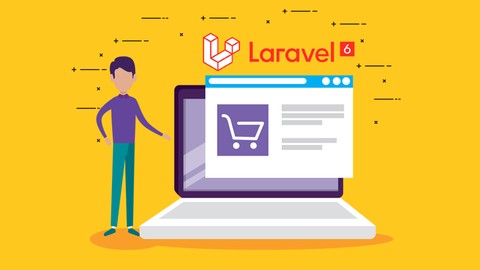 Laravel 8 PHP Framework A – Z Build Professional Ecommerce
In This Course, You Will Learn Laravel 8 Fundamentals and Complete Professional Ecommerce with lots of Advance Features
Created by easy Learning, Kazi Ariyan | 68.5 hours on-demand video course
One of the Best Laravel 8 Framework Course on Udemy. Laravel is an open-source PHP framework, which is robust and easy to understand. It follows a model-view-controller design pattern. Laravel reuses the existing components of different frameworks which helps in creating a web application. The web application thus designed is more structured and pragmatic.
What you'll learn
Create Complete Project with Laravel 6
Updated with Laravel 8
Multiple Language Option
Order Tracking System
Stock Management System
User Role Management
Laravel Socialite
Product Return Order
Product Apple Coupon
Facebook Comment System
Product Search Option
Product Discount Price
Buy and Get One Product
Online Payment Getway System
Product Mailing System
Product Reports System
Product Wishlist
JWT & Laravel Passport
Site Contact Page Form
Site Setting Option
Site SEO
Product Add to Cart
Multiple CRUD Function
Image Upload System
Adding Professional Theme for Backend
Adding Professional Theme for Frontend
Laravel 8 Multi Auth with Jetstream Fortify
Laravel 8 A-Z Basic Fandamentals
Recommended Course
Facebook Clone with Laravel, TDD, Vue & Tailwind CSS
Laravel & Realtime: Build Several Realtime Apps with Laravel
Udemy Promotional Code - May 2023
This will also bring up a list of coupons and promo codes that you can use to get a discount on Udemy courses
Learn Data Science. Courses starting at $12.99.
Promotion Dates: 05/01/2023 - 06/01/2023
Clicks to
Redeem Udemy Coupon