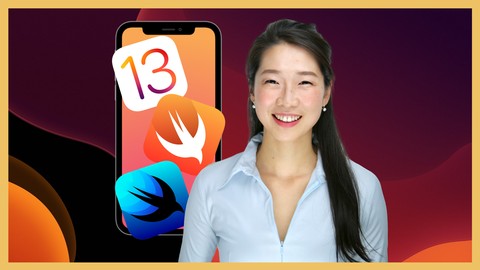 iOS & Swift – The Complete iOS App Development Bootcamp
From Beginner to iOS App Developer with Just One Course! Fully Updated with a Comprehensive Module Dedicated to SwiftUI!
Created by Dr. Angela Yu | 58.5 hours on-demand video course
Welcome to the Complete iOS App Development Bootcamp. With over 39,000 5 star ratings and a 4.8 average my iOS course is the HIGHEST RATED iOS Course in the history of Udemy! At 55+ hours, this iOS 13 course is the most comprehensive iOS development course online! This Swift 5.1 course is based on our in-person app development bootcamp in London, where we've perfected the curriculum over 4 years of in-person teaching.
Our complete app development bootcamp teaches you how to code using Swift 5.1 and build beautiful iOS 13 apps for iPhone and iPad. Even if you have ZERO programming experience. I'll take you step-by-step through engaging and fun video tutorials and teach you everything you need to know to succeed as an iOS app developer. The course includes 55+ hours of HD video tutorials and builds your programming knowledge while making real world apps. e.g. Pokemon Go, Whatsapp, QuizUp and Yahoo Weather.
The curriculum has been completely revamped for iOS 13 and Xcode 11. Including comprehensive modules on Apple's latest technology – SwiftUI iOS, iPadOS and macOS app interface design, ARKit for making Augmented Reality apps as well as CoreML & CreateML for making intelligent apps with Machine Learning. You'll be building 3D augmented reality apps that look like Pokemon Go and Harry Potter's magical newspapers! By the end of this course, you will be fluently programming in Swift 5.1 and be ready to make your own apps or start a freelancing job as an iOS 13 developer.
What you'll learn
Be able to build any app you want
Start your own app based business
Create a portfolio of apps to apply for junior developer jobs at a technology company
Become a digital nomad by working as a freelance iOS developer
Learn to work with Apple's latest UI Framework – SwiftUI
Master creating Augmented Reality apps using Apple's new ARKit
Create apps that use Machine Learning using Apple's new CoreML
Master app design so you'll know how to wireframe, mockup and prototype your app idea
Master app marketing so you can publish your apps and generate downloads
Recommended Course by Dr. Angela Yu
【글로벌 Best】 Python 부트캠프 : 100개의 프로젝트로 Python 개발 완전 정복
100 Days of Code – The Complete Python Pro Bootcamp for 2023
The Complete 2023 Web Development Bootcamp
The Complete Flutter Development Bootcamp with Dart
Complete 2022 Data Science & Machine Learning Bootcamp
Udemy Promotional Code - May 2023
This will also bring up a list of coupons and promo codes that you can use to get a discount on Udemy courses
Learn Data Science. Courses starting at $12.99.
Promotion Dates: 05/01/2023 - 06/01/2023
Clicks to
Redeem Udemy Coupon