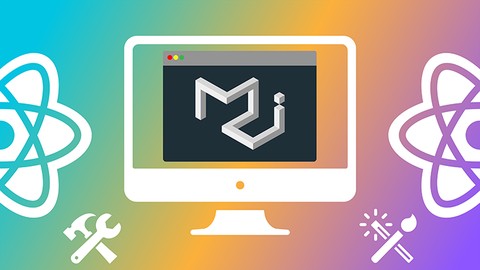 Implement High Fidelity Designs with Material-UI and ReactJS
Bridge the gap between Design & Development! Break down detailed designs and bring them to life with Material-UI/React.
Created by Zachary Reece | 36.5 hours on-demand video course
Welcome to the most comprehensive resource for Material-UI to date! Over 35 hours and more than 200 lectures, I will teach you absolutely everything there is to know about building finely designed applications using hands-down the most useful tool I've learned since React itself — Material-UI! Take your web development skills to a whole new level and separate yourself from the average React developer by gaining the confidence to build professionally designed applications!
What you'll learn
Create beautifully designed production applications from scratch with Material-UI
Build applications that look perfect on every screen with Material-UI's responsive design system
Optimize images to reduce file sizes
Search Engine Optimization in React JS
Migrate from create-react-app to Next JS
Use serverless functions with Firebase
Export and efficiently integrate animations in React JS
Collect data and track events with Google Analytics in React JS
Ensure cross-browser support with your styles in Material-UI
Deploy production Material-UI/React JS applications
Recommended Course
Complete React Developer in 2022 (w/ Redux, Hooks, GraphQL)