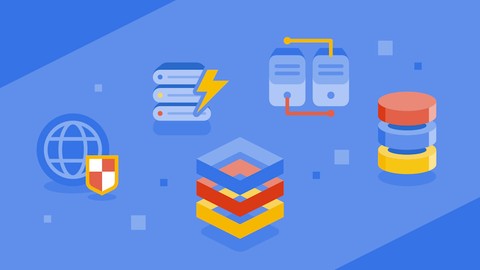 Google Cloud Platform Fundamentals: Core Infrastructure
Google Cloud Training
Created by LevelUp360° DevOps | 6.5 hours on-demand video course
This course introduces you to important concepts and terminology for working with Google Cloud Platform (GCP). You learn about, and compare, many of the computing and storage services available in Google Cloud Platform, including Google App Engine, Google Compute Engine, Google Kubernetes Engine, Google Cloud Storage, Google Cloud SQL and BigQuery. You learn about important resource and policy management tools, such as the Google Cloud Resource Manager hierarchy and Google Cloud Identity and Access Management. Hands-on labs give you foundational skills for working with GCP.
What you'll learn
Choose among and use Google Cloud Platform storage options: Google Cloud Storage, Google Cloud SQL, Google Cloud Bigtable, and Google Cloud Datastore
Describe ways in which customers have used Google Cloud Platform
Interact with Google Cloud Platform services
Make basic use of Cloud Deployment Manager, Google's tool for creating and managing cloud resources through templates
Choose among and use application deployment environments on Google Cloud Platform: Google App Engine, Google Kubernetes Engine, and Google Compute Engine
Identify the purpose and value of Google Cloud Platform products and services
Make basic use of BigQuery, Google's managed data warehouse for analytics
Make basic use of Google Stackdriver, Google's monitoring, logging, and diagnostics system
Recommended Course
Kubernetes Mastery: Hands-On Lessons From A Docker Captain
Ultimate AWS Certified Solutions Architect Professional 2020
Udemy Coupons - December 2022
Get Certified! IT Certification courses starting from $12.99.
Promotion Dates: 01/12/2022 - 01/01/2023
Clicks to
Redeem Udemy Coupon