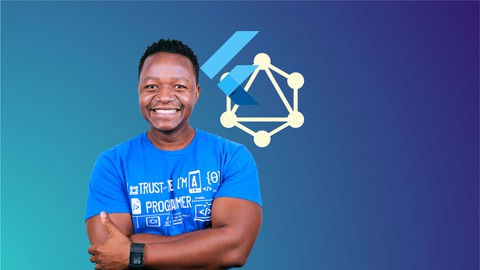 Flutter & GraphQL – Build GraphQL APIs & Flutter Client Apps
Use GraphQL, NodeJS, Express, MongoDB and Heroku to Build Robust API & a Flutter Client App From Scratch
Created by Paolo Dichone | Android, Java, Flutter Developer and Teacher
GraphQL is the new way of building scalable, reliable, and concise API's that any client can consume. If you want to master GraphQL with Express GraphQL & NodeJS so you can then use, in our case, the Flutter app as the client, then this course is for you. This course will get you up and running with GraphQL and teach you the core knowledge you need to master and build GraphQL APIs and deploy them to a remote server.
What you'll learn
Master GraphQL and how to use technology tools to build and consume robust API's with GraphQL
Use NodeJS, Express and GraphQL to create a backend server for your Flutter Apps to consume
Understand the whole picture of development – front and backend
Build a Robust GraphQL API from Scratch
Gain a Strong Understand of GraphQL Syntax, Types and Data Object Relationships
Learn how to work with MongoDB and mongoose data Collections
Learn how to Deploy a GraphQL Project to Heroku Remote Webserver
Recommended Course
Flutter Web Firebase Firestore – Build a Diary Web app
The Complete 2021 Flutter Development Bootcamp with Dart
Udemy Coupons Codes - August 2022
Code your future with Programming skills. Courses starting at $11.99 only!
Promotion Dates: 1/08/22 - 16/08/22
Clicks to
Redeem Udemy Coupon