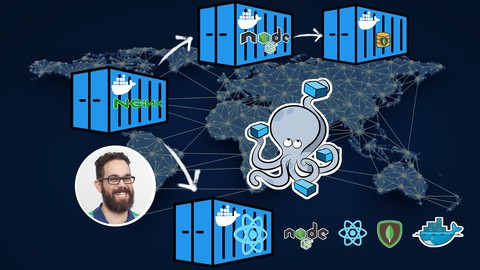 Docker for Developers, Dockerize React, Node, Mongo and more
Master the art of Dockerize images and never install unnecessary software again. Use docker w/ React, Node, Mongo & more
Created by Icaro Lavrador | 7 hours on-demand video course
This course put an end on this. I will teach you how to use Docker so you can efficiently build apps that run smoothly and consistently across any machine, that you will be able to run in any device with Docker from zero to no time down. We will build together many images and containers, step by step, from scratch and by the end, we will have a fully functional application using not 1 or 2 containers but 4. And we will be able to start it all (a reverse proxy, a React application, a Node application and a MongoDB) using just one command.
What you'll learn
How to Dockerize apps
How to use Docker Images and Containers
How to mange multiple containers using Docker-Compose
How to deploy a production grade application using Kubernetes (K8's)
Optimize your Development and Production setup for Docker
Resolve compatibility problems among different system and stages
Learn how to Dockerize React, Node, Mongo, NIGNX apps and any other
Recommended Course
Docker for Node.js Projects From a Docker Captain
Docker for Beginners: Full Course [14 Hours]
Udemy Coupons Codes - August 2022
Code your future with Programming skills. Courses starting at $11.99 only!
Promotion Dates: 1/08/22 - 16/08/22
Clicks to
Redeem Udemy Coupon