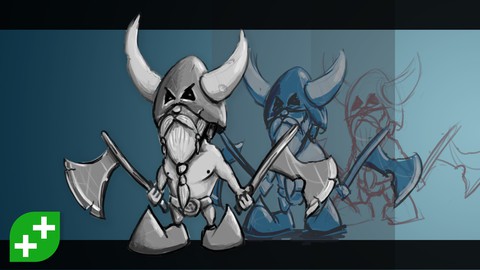 Complete Drawing Course: Create Video Game Concept Art
Learn To Be An Artist From Scratch – Follow Along Digitally or With Pen and Paper.
Created by GameDev.tv Team, Grant Abbit | 9.5 hours on-demand video course
This course focusses on practicing the fundamental concepts, but in a fun creative way. We'll draw characters, environments, objects, weapons, spaceships, game scenes and lots more. You'll be encouraged to draw without trying to be perfect. Learning to draw concept art is more about conveying your idea than it is about winning art awards! You can follow along with this course even if you don't have a fancy graphics tablet. Every lecture is suitable for people with paper-and-pencil, as well as those folks who have a digital drawing set up.
What you'll learn
We'll start with the basic fundamentals of Stroke, Shape, Size and Shade.
Lot's of practice creating quirky video game objects such as weapons, cars, castles and more.
Creating characters, learning dimensions, posing and more.
3D SHAPES to build-up an isometric drawing, your first foray into the third dimension.
One and two point perspective, along with saturation techniques to give a sense of DEPTH.
Practice flowing shapes into one-another to create natural looking FORM.
Along the way you'll learn ADVANCED techniques including pose, shading, lighting, stroke thickness and more.
Recommended Course
Unity Dialogue & Quests: Intermediate C# Game Coding