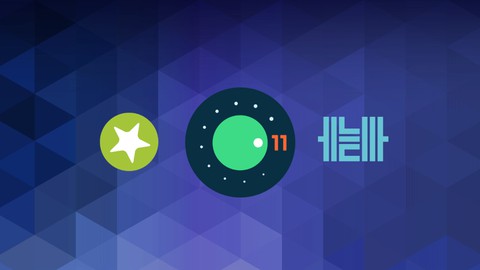 The Complete Android 11 Developer Course: Build AMAZING apps
Master Android 11 App Development using Kotlin! Build REAL apps
Created by Codestars by Rob Percival, Mashrur Hossain | 13.5 hours on-demand video course
Welcome to The Complete Android 11 Developer Course!! Build your own apps quickly, cheaply and confidently! Master Android 11 app development, and learn Kotlin at the same time! Practice every bit of code you learn, with hands-on challenges! This BRAND NEW Android 11 course is the latest in the series of Complete Android Developer courses started by Rob Percival. More than 210,000 students have taken Rob's Android development courses, and they love them…! The course curriculum has been completely updated and overhauled, with EVERY lecture re-recorded and BRAND NEW content added! Build your own apps and projects while learning Android 11 development!
What you'll learn
How to build apps from scratch!
Master Kotlin and code confidently!
The latest android development techniques with Android 11!
User authentication, UI layouts and and views, online data storage and more!
Recommended Course by Codestars
The Complete 'No Code' Automation Course: Build 18 Projects [NEW COURSES]
Android Testing: Unit Tests, Hilt, ViewModels and more! [NEW COURSES]
Master Math by Coding in Python [2021 Edition]
The Complete Python/PostgreSQL Course 2.0
Udemy Coupons Codes - August 2022
Knowledge opens doors. Courses on sale from $13.99
Promotion Dates: 15/08/22 - 17/08/22
Clicks to
Redeem Udemy Coupon