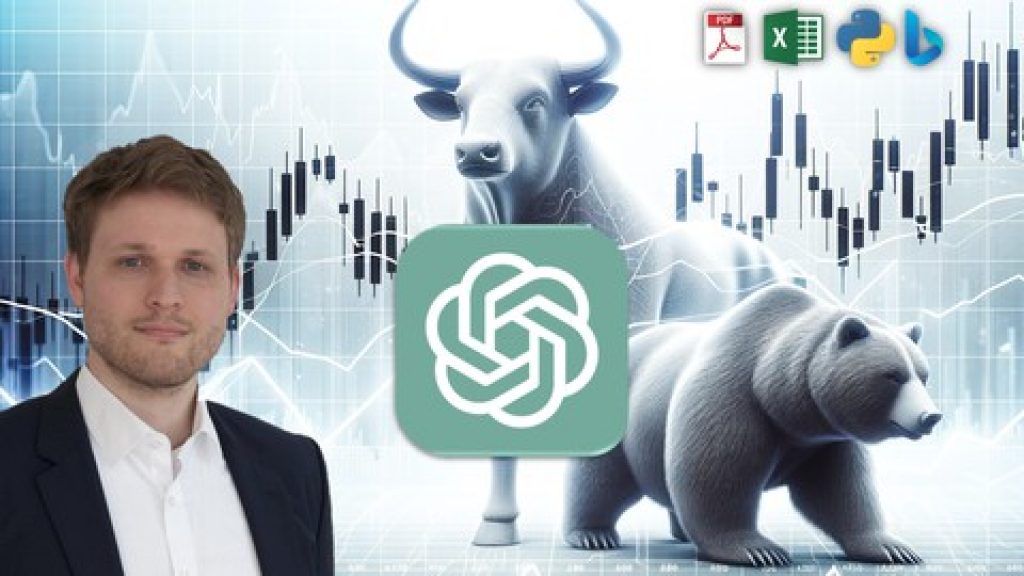 ChatGPT for Finance and Investment Professionals
Use ChatGPT for Data Analytics, PDF Reading, Web Searches, Chart Interpretation, Excel Modelling, Python Coding & more
Created by Alexander Hagmann | 7 hours on-demand video course
Welcome to the first ChatGPT course for Finance and Investment Professionals. Boost your results and efficiency at work with AI!
In the dynamic world of finance and investment, staying ahead means leveraging the most cutting-edge tools at your disposal. This is a unique course designed to arm financial professionals with advanced ChatGPT skills, going beyond the basics to explore how this revolutionary AI can transform your approach to data analysis, client interactions, and strategic decision-making.
What You Will Learn in ChatGPT Course:
Getting Started: We set the stage with fundamental principles of AI in finance, ensuring you're primed for the advanced content ahead.
Introduction to ChatGPT: A comprehensive overview of ChatGPT, tailored for financial professionals. Understand its core functionalities and immediate applications in your daily workflow.
Five Essential Techniques in Prompt Engineering for Financial Professionals: Dive into prompt engineering, learning to craft queries that yield the most relevant and accurate responses for complex financial data and scenarios.
ChatGPT in Finance and Investing: Understanding Its Limits and Pitfalls: It's crucial to recognize the limitations and potential missteps when integrating AI in finance. This section empowers you with the knowledge to navigate these challenges effectively.
ChatGPT – Advanced Features for Finance (PLUS): Explore the advanced capabilities of ChatGPT, including DALL-E 3 for image creation, enhanced data analytics with Python, and more, all tailored for financial contexts.
Case Study: Goal-Based Investment Planning with Advanced Prompt Engineering: Apply your skills in a real-world scenario, utilizing ChatGPT to strategize and execute goal-oriented investment plans.
Case Study: Financial Excel Modeling and Deal Pitching with ChatGPT: Get valuable help from ChatGPT for your Financial Excel Models and let ChatGPT draft letters and documents for you.
Case Study: Python Coding and Bug Fixing with ChatGPT: Enhance your coding efficiency in Python with ChatGPT's assistance, especially in debugging and optimizing financial algorithms.
Why to take this ChatGPT Course:
Practical Approach: Each module is designed with a focus on practical application, especially through real-world case studies in finance and investment.
Interactive Learning: Students are encouraged to actively engage with the material through case study analysis.
Comprehensive Tools Integration: The course covers the latest tools such as image creation with DALL-E 3, advanced data analytics with Python, PDF reading enhancements, and effective web browsing and searching techniques.
Expert Insights: Learn from professionals who are at the forefront of integrating AI in finance, providing insights that are both current and relevant.
Flexible Learning: Designed for busy professionals, the course offers flexibility to learn at your own pace while ensuring a comprehensive understanding of each topic.
Recommended Course by Alexander Hagmann
Analyze Stocks with Pandas, Numpy, Seaborn & Plotly. Create, analyze & optimize Index & Portfolios (CAPM, Alpha, Beta)
Build your own truly Data-driven Day Trading Bot | Learn how to create, test, implement & automate unique Strategies.
Generate Income and make a living with Day Trading / Algorithmic Trading. A quantitative & data-driven Python course.
Who is this Course for?
This course is ideal for finance professionals, investment analysts, portfolio managers, financial advisors, and anyone keen on integrating AI into their financial expertise. Whether you're looking to enhance your analytical skills, streamline your workflow, or gain a competitive edge in the financial sector, this course offers the tools and insights to achieve your goals.