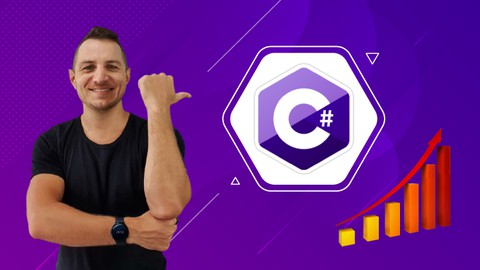 C# And Visual Studio Productivity Masterclass
Double Your Coding Speed Using C#, Visual Studio, Resharper And Other Powerful Extensions
Created by Denis Panjuta, Tutorials.eu by Denis Panjuta | 2.5 hours on-demand video course
Do you spend a lot of time typing code? What if I tell you that you can do everything twice as fast? Yes, you heard me right, with the right combination of shortcuts, shortcodes and some productivity tips you can drastically increase your coding performance!
With our brand new C# & Visual Studio course, you will learn how to increase your productivity using shortcuts, become proficient with your keyboard, how to create your own shortcuts, and several additional tips on how to generally increase your coding speed with Visual Studio. This course is suitable both for beginners and for advanced C# & Visual Studio users who want to learn additional plots and double your productivity.
What you'll learn
Learn how to increase your speed while coding, improve your skills while using Visual Studio and its extensions
You will decrease your need to use a mouse and handle most of your work with your keyboard
Visual Studio provides many useful tools. How many of them do you use? You can learn how to use some of the most useful tools and extensions. With these extensions, your job will be a lot easier!
You will learn how to use ReSharper and its features in an explicit and detailed way and you will realize how handy it is while coding
Recommended Course
Become a Docker Power User with Visual Studio Code
Mastering Salesforce DX and Visual Studio Code
Udemy Coupons - December 2022
Get Certified! IT Certification courses starting from $12.99.
Promotion Dates: 01/12/2022 - 01/01/2023
Clicks to
Redeem Udemy Coupon