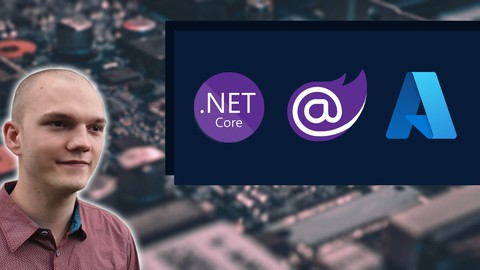 Blazor – Your Developer Portfolio (WASM + Web API)
Learn in-demand technologies and get a dev portfolio: Blazor WebAssembly, ASP.NET Core Web API, C#, .NET 6, and Azure.
Created by Ruben Heeren | 16 hours on-demand video course
Every software developer needs a developer portfolio and there is a huge demand for C# .NET Developers in 2021. If you are interested in gaining those in-demand skills then why not fill two needs with one deed by building your portfolio like the one you're seeing behind me with the tech you want to continue working with? Even if you don't make it your portfolio you'll still walk away with the skills.
My name is Ruben and in this course I'll teach you how to build modern web applications with the Microsoft .NET stack. Developers get paid a lot of money to build applications with this stack. According to Glassdoor, the national average salary in the United States for .Net Developers is $96,000 dollars per year. The most important technologies you'll learn are C#, .NET 6, ASP.NET Core, Blazor WASM, The Microsoft Azure Cloud and GitHub.
What you'll learn
Blazor WebAssembly
C#
.NET 6
ASP .NET Core Web API
Entity Framework Core
Microsoft Azure
Git
GitHub
SQLite
HTML
CSS
Bootstrap 5
Agile/Scrum project management
Software architecture
Recommended Course
Complete Web API in .NET 5 Consumed with Blazor WebAssembly
Blazor WebAssembly Full Stack Bootcamp
Udemy Promotional Code - June 2023
This will also bring up a list of coupons and promo codes that you can use to get a discount on Udemy courses
Learning for all. Online courses from $12.99
Promotion Dates: 06/06/2023 - 06/07/2023
Clicks to
Redeem Udemy Coupon