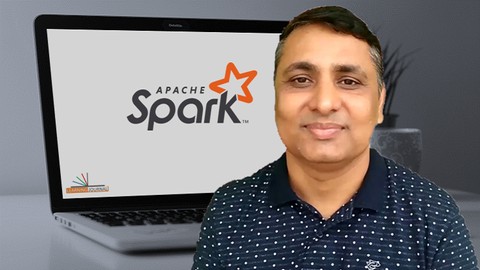 Apache Spark 3 – Spark Programming in Scala for Beginners
Data Engineering using Spark Structured API
Created by Learning Journal – Prashant Kumar Pandey | 5.5 hours on-demand video course
This course does not require any prior knowledge of Apache Spark or Hadoop. We have taken enough care to explain Spark Architecture and fundamental concepts to help you come up to speed and grasp the content of this course. I am creating Apache Spark 3 – Spark Programming in Scala for Beginners course to help you understand the Spark programming and apply that knowledge to build data engineering solutions. This course is example-driven and follows a working session like approach. We will be taking a live coding approach and explain all the needed concepts along the way.
What you'll learn
Apache Spark Foundation and Spark Architecture
Data Engineering and Data Processing in Spark
Working with Data Sources and Sinks
Working with Data Frames, Data Sets and Spark SQL
Using IntelliJ Idea for Spark Development and Debugging
Unit Testing, Managing Application Logs and Cluster Deployment
Recommended Course
Apache Spark Streaming 3.0 with Scala | Rock the JVM
Apache Kafka Complete Developer's Guide
Udemy Coupons - December 2022
Get Certified! IT Certification courses starting from $12.99.
Promotion Dates: 01/12/2022 - 01/01/2023
Clicks to
Redeem Udemy Coupon