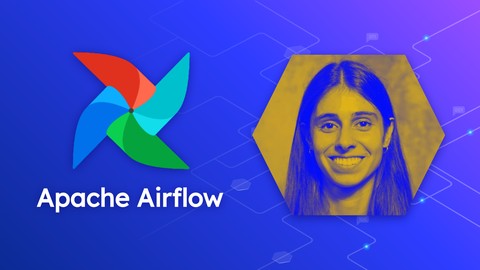 Apache Airflow: Complete Hands-On Beginner to Advanced Class
Learn Apache Airflow step-by-step. Real-Life Data Pipelines & Quizzes Included. Learn by Doing!
Created by Alexandra Abbas | 4.5 hours on-demand video course
This course is for beginners. You do not need any previous knowledge of Apache Airflow, Data Engineering or Google Cloud. We will start right at the beginning and work our way through step by step. You will get lifetime access to over 50 lectures plus corresponding cheat sheets, datasets and code base for the lectures! This course includes 50 lectures and more than 4 hours of video, quizzes, coding exercises as well as 2 major real-life projects that you can add to your Github portfolio!
What you'll learn
Core and Advanced Concepts in Airflow through Real-World Examples
Architecture Components of Apache Airflow
How to Set Up Connections to External Resources
How to Load and Analyse Data in a Data Warehouse using Airflow
How to Schedule PySpark jobs using Apache Airflow
How to Extend Airflow with Custom Operators and Sensors
How to Test Airflow DAGs and Operators
How to Deploy Airflow Instances with Different Executors
How to Set Up Error Tracking and Monitoring
Recommended Course
The Ultimate Hands-On Course To Master Apache Airflow
Apache Spark 3 – Spark Programming in Scala for Beginners
Udemy Promotional Code - June 2023
This will also bring up a list of coupons and promo codes that you can use to get a discount on Udemy courses
Learning for all. Online courses from $12.99
Promotion Dates: 06/06/2023 - 06/07/2023
Clicks to
Redeem Udemy Coupon