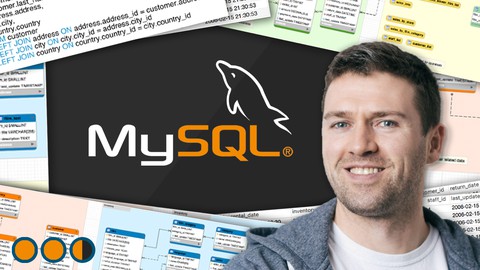 Advanced SQL Database Administration with MySQL Workbench
Master advanced SQL skills for building, optimizing, and administering relational databases using MySQL Workbench
Created by Maven Analytics, John Pauler | 8 hours on-demand video course
MySQL is a powerful tool for managing and analyzing relational databases, and a skill that every analyst and BI professional should have in the arsenal. In this course, you'll take your database administration skills to the next level, expanding into advanced concepts like replication, automation, and database security.
We'll start by introducing the course structure, installing MySQL Community and Workbench, and reviewing key database administration (DBA) tasks; creating and editing schemas & tables, inserting and deleting records, and reviewing the key principles of normalized databases. From there we'll work through more advanced concepts like replication, backup and recovery, and learn how to leverage automation via stored procedures, triggers, and scheduled events.
Throughout the course, you'll be playing the role of Lead Database Administrator for an e-commerce startup, and learn how to build and populate an entire database from the ground up using real-world projects and assignments.
What you'll learn
Write SQL queries and use MySQL Workbench to create new databases from scratch
Explore database security threats and practice techniques like replication, backup and recovery
Leverage advanced automation tools like triggers, stored procedures, and scheduled events
Create and modify EER diagrams to understand table structures and relationships
Work through practical, real-world assignments and projects you won't find anywhere else
Get LIFETIME access to resource files, quizzes, assignments, and expert support
Recommended Course
Complete SQL + Databases Bootcamp: Zero to Mastery [2021]
The Complete Python/PostgreSQL Course 2.0
Udemy Coupons - December 2022
Get Certified! IT Certification courses starting from $12.99.
Promotion Dates: 01/12/2022 - 01/01/2023
Clicks to
Redeem Udemy Coupon