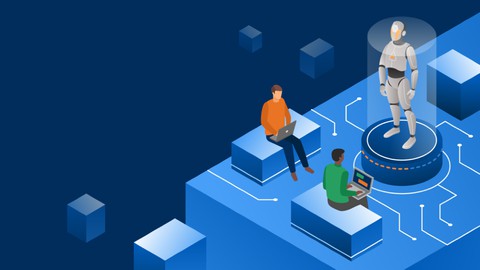 10 Artificial Intelligence projects in 10 days with NO code
Build 10 AI projects in 10 days without coding using Google Teachable Machines, DataRobot and AWS Autopilot
Created by Dr. Ryan Ahmed, Ph.D., MBA, Ligency Team, Mitchell Bouchard | 12.5 hours on-demand video course
Master the top tools on the market and start solving practical industry scenarios when you enroll in our new course: 10 Code-less Days of Artificial Intelligence. Join our best-selling instructor Dr. Ryan Ahmed and learn how to build, train, test, and deploy models that solve 10 practical challenges across finance, human resources, business, and more, using these state-of-the-art tools: Google Teachable Machine, Google TensorFlow Playground, DataRobot, AWS SageMaker Autopilot, Google Vertex AI, Tensorspace.JS
What you'll learn
Build, train, test and deploy 10 AI/ML models in 10 days without writing any code.
Build, train, test and deploy AI models to classify fashion items using Google Teachable Machine.
Visualize State-of-the-Art Artificial Intelligence Models Using Tensorspace JS, Google Tensorflow
Playground and Ryerson 3D CNN Visualizations.
Explain the difference between learning rate, epochs, batch size, accuracy, and loss.
Build, train and deploy advanced AI to detect Diabetic Retinopathy disease using DataRobot AI.
Leverage the power of AI to solve regression tasks and predict used car prices using DataRobot AI.
Evaluate trained AI models using various KPIs such as confusion matrix, classification accuracy, and error rate.
Understand the theory and intuition behind Residual Neural Networks (ResNets), a state-of-the-art deep NNs that are widely adopted in several industries.
Understand the impact of classifier threshold on False Positive Rate (Fallout) and True Positive Rate (Sensitivity).
Predict employee attrition based on their features such as employee engagement, distance from home, job satisfaction using DataRobot AI.
Develop an AI model to detect face masks using Google Teachable Machines.
Build, train and deploy XGBoost-based algorithm to perform regression tasks using AWS SageMaker Autopilot.
Learn how to transfer knowledge from a pre-trained Artificial Neural Network to a new network using transfer learning strategy.
Learn how to train multiple AI models based on XG-Boost, Artificial Neural Networks, Random Forest Classifiers and compare their performance in DataRobot.
Learn how to use SageMaker Studio AutoML tool to build, train and deploy AI/ML models which requires almost zero coding experience.
Differentiate between various regression models KPIs such as R2 or coefficient of determination, Mean Absolute Error and Mean Squared error.
Learn how to build, train, test and deploy advanced machine learning classification models using Google Vertex AI.
Understand how to leverage the power of AI/ML to predict bank customers credit card default using their features such as interest rates and loan purpose
Learn how to create a new dataset using Google Vertex AI Develop and manage experiments using Google Vertex AI.
Understand the theory, intuition, and mathematics behind simple and multiple linear regression and differentiate between various regression models KPIs.
Deploy the best model after the hyperparameters optimization job is complete and Learn how to assess feature importance and explain model predictions.
Deploy and monitor AI/ML models and create AI/ML applications with Google Vertex AI.
Recommended Course
Modern Artificial Intelligence with Zero Coding
Artificial Intelligence 101 ·Digital Transformation 2021
Udemy Promotional Code - May 2023
This will also bring up a list of coupons and promo codes that you can use to get a discount on Udemy courses
Learn Data Science. Courses starting at $12.99.
Promotion Dates: 05/01/2023 - 06/01/2023
Clicks to
Redeem Udemy Coupon