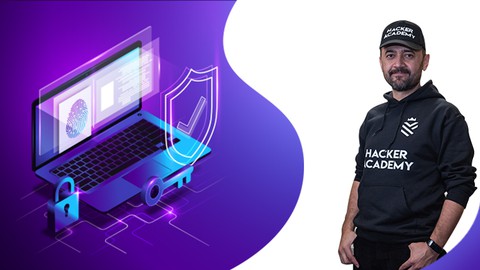 Wi-Fi Hacking and Wireless Penetration Testing Course
Learn how to hack Wi-Fi from real-world penetration tester! WEP, WPA/WPA2, WPS Cracking, Wifi Recon & Password cracking
Created by Muharrem AYDIN, Fatih YILMAZ | 4 hours on-demand video course
Welcome to my Wi-Fi Hacking and Penetration Testing. Ethical hacking is a whole new technology in itself. The techniques of hacking are rapidly growing in numbers with hackers every day coming up with new ideas to steal our personal data. One such widely preferred ways of hacking is Wi-Fi hacking.
Wi-Fi hacking is easier than hacking a device connected to that WiFi. There are many free tools that can hack the less secure WiFi router. Apart from this, there are also advanced tools that work on backtrack and can even hack Wi-Fi router with high security.
In this course, you will learn how to crack the key and get the password to WiFi networks whether they use WEP, WPA, or even WPA2. While you are learning ethically hack you will also learn how to secure networks from hackers.
What you'll learn
Setting Up The Laboratory
Install Kali Linux – a penetration testing operating system
Wi-Fi Adapter Settings
Wi-Fi Network Fundamentals,IEEE 802.11
Basic Terminologies & Concepts
Wireless Operating Modes : Ad-hoc, Infrastructure, Monitor modes.
Wireless Packet Types
MAC Frame Structure
Analysing Packet Types with Wireshark
Wi-Fi Network Interaction, Authentication Methods
WEP vs WPA/WPA2
WPA2 4-Way Handshake
WPA Personal and Enterprise
Wireless Reconnaissance with Bettercap
Wardriving with Kismet, Mapping with Google Earth
Rogue Access Points with Airbase-ng, Wifi Pumpkin 3, Fluxion
Handshake Snooper and Captive Portal Attack with Fluxion
Evil Twin Attack
WEP Cracking with Client and Clientless Networks
Fake Authentication Attack
Deauthentication Attack with Bettercap
ARP Request Replay Attack
Fragmentation Attack
ChopChop Attack
Cracking WPA/WPA2 with Aircrack-ng, John The Ripper, Cowpatty, Wifite 2
Passwordlists
WPA/WPA2 Cracking using GPUs with Hashcat
Key Reinstallation Attacks (KRACK)
WPS PIN Attacks
Recommended Course
Learn Bug Bounty Hunting & Web Security Testing From Scratch
Web Security & Bug Bounty: Learn Penetration Testing in 2023