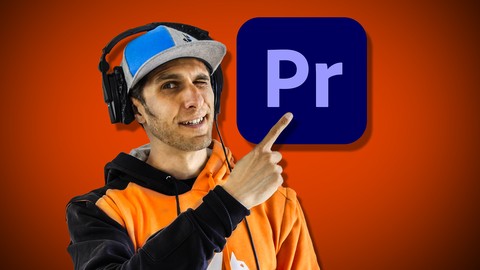 Video Editing complete course | Adobe Premiere Pro CC 2021
Learn video editing for youtube & social media with this complete 14 hours online course of Adobe Premiere Pro 2021
Created by Mariano Gobbi | 14.5 hours on-demand video course
Whether you want to learn how to edit videos for youtube and the latest social media platforms, or start your video editing career, or simply you want to revise your knowledge of this amazing software, this ultimate and complete Video Editing Course for beginners built with and for Adobe Premiere Pro 2020 CC is what you are looking for. The course includes more than 14 hours of video content, spread on 18 sections and 115 lectures. Everything you need to know to start with Premiere Pro and to start editing is here.
What you'll learn
By the end of the course, you'll have learned the full video editing process and you'll independently be able to create a video project from start to end for any kind of platform, including instagram, youtube and tik tok..
You will get solid foundations of the Adobe Premiere software and its interface, and you'll be familiar with the main video editing terms and concepts.
The tools and techniques to trim and adjust the video clips through varied and engaging material.
You'll learn how to stabilise, scale, rotate, position, animate and change the speed of a clip.
How to add music, sound effects and how to mix your audio.
How to colour correct and colour grade your video with a polished and professional final look.
How to create texts, animated graphics with the use of the keyframes and how to create graphic presets.
How to add captions and subtitles.
How to export your video in different aspect ratios and formats.
Get professional tips and tricks throughout the whole course.
Recommended Course
Adobe Premiere Pro CC – Essentials Training Course
Adobe Premiere Pro CC – Advanced Training Course
Udemy Promotional Code - June 2023
This will also bring up a list of coupons and promo codes that you can use to get a discount on Udemy courses
Learning for all. Online courses from $12.99
Promotion Dates: 06/06/2023 - 06/07/2023
Clicks to
Redeem Udemy Coupon