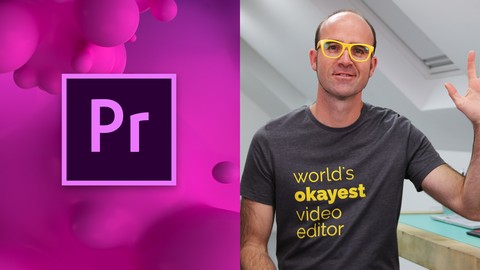 Adobe Premiere Pro CC – Essentials Training Course
Start your Premiere Pro training now and fast track your career as a video editor.
Created by Daniel Walter Scott, Instructor HQ | 15.5 hours on-demand video course
Hi there, my name is Daniel Walter Scott and I am an Adobe Certified Instructor. I am here to help you learn Adobe Premiere Pro and to show you the tools you need to become a successful video editor. Premiere Pro is the industry standard used by professional designers to create stunning, high class videos and, after completing this course, you too can become a confident, skilful and efficient creator of stunning videos.
This course is aimed at people who are completely new to Premiere Pro. If you are self taught using Premiere, this course will show you techniques you never dreamed were necessary or possible and will show you efficiencies to help speed up your workflow. The course covers many topics – all of them on a step-by-step basis. We will use real world video editing examples to work through
What you'll learn
Learn how to edit a video interview
Learn how to edit a wedding video
Learn how to edit a short documentary
Learn how to edit social media advertising videos for Instagram, Facebook, Twitter & Youtube Stories
Learn how to edit YouTube 'how to' videos
Learn how to edit talking head footage mixed with screencasts and voiceovers
Learn the difference between After Effects & Premiere Pro
How to add import video your Premiere Pro Project
Color grading video using LUTs & Looks
Create video transitions
Add animated text & lower thirds
How to export video for social media, Youtube & film.
How to organize your video editing footage like a Pro
Where to find free music & video
Video effects like Cinema effects, Black & White, Film Grain, Vignettes, Orange & Teal effect.
How to speed up Premiere Pro so it doesn't run slow while editing.
Work with transition & video effects presets and templates.
Master Lumerti Color
Removing echo, background noise like fans, aircon & fridge hum
Looping background music
Syncing aligning video & audio automatically
Animating using keyframes
Mastering the Essentials Graphics panel
How to work with HD & 4K video
Understanding of Frames per second (FPS), aspect ratios & codecs
How to create motion graphic
How to work with high frame rates
How to work with B-Roll
Zooming in & out with screen capture video & voice over audio
Green Screen
Change images into videos
The ULTIMATE Premiere Pro shortcuts
Recommended Course
Freelance Web Design: From Figma to Webflow to Upwork
After Effects CC 2020: Complete Course from Novice to Expert
Udemy Promotional Code - June 2023
This will also bring up a list of coupons and promo codes that you can use to get a discount on Udemy courses
Udemy Get Certified! IT Certification courses starting from $12.99
Promotion Dates: 06/01/2023 - 07/01/2023
Clicks to
Redeem Udemy Coupon