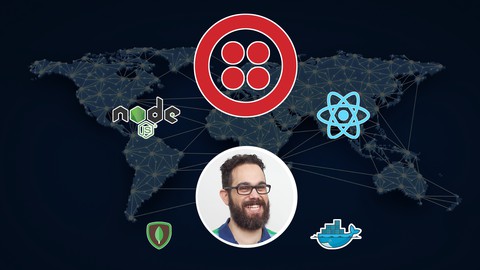 Twilio – Make a complete Call Centre in React and Node
React, Node and Twilio – Create a complete call centre with SMS authentication, waiting queues & answer calls in browser
Created by Icaro Lavrador | 4 hours on-demand video course
Twilio the world's leading cloud communications platform as a service (CPaaS) that enables you to develop solutions for SMS, WhatsApp, Voice, Video, email, and even IoT. Twilio powers communications for more than 190,000 businesses, and enables nearly 932 billion human interactions every year.
In this course, we will leverage some of those capabilities to create a fully functional Call Center, where the users will log with their mobile number using SMS and call will be added to a dashboard in real-time, showing where each individual call stage is.
Calls will be greeted with a welcome message and after added to a queue, the workers on the call centre can track the call status on the dashboard the call will flow from ringing to queued to answered and of course in case we miss a call it will also display a call missed.
What you'll learn
How to create a call centre from beginning to end
How to use Twilio to send and receive SMS
How to use Twilio to make and receive voice calls
How to queue and dequeue calls using Twilio
How to use Twilio Verify to verify the user mobile number
How to send SMS to a phone number
How to make a call to a phone number
Recommended Course
Complete NodeJS Developer in 2022 (GraphQL, MongoDB, + more)
Node.js, Express, MongoDB & More: The Complete Bootcamp 2022
Udemy Promotional Code - September 2023
This will also bring up a list of coupons and promo codes that you can use to get a discount on Udemy courses
The skills for now — now on sale. Online courses from $14.99.
Promotion Dates: 09/21/2023 - 09/22/2023
Clicks to
Redeem Udemy Coupon