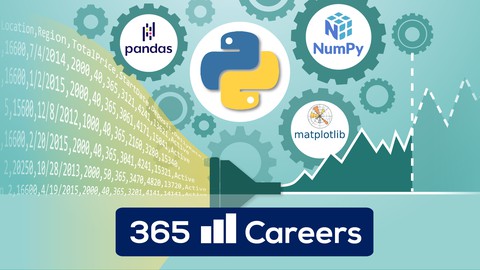 The Data Analyst Course: Complete Data Analyst Bootcamp 2022
Complete Data Analyst Training: Python, NumPy, Pandas, Data Collection, Preprocessing, Data Types, Data Visualization
Created by 365 Careers | 20.5 hours on-demand video course
Most data analyst, data science, and coding courses miss a critical practical step. They don't teach you how to work with raw data, how to clean, and preprocess it. This creates a sizeable gap between the skills you need on the job and the abilities you have acquired in training. Truth be told, real-world data is messy, so you need to know how to overcome this obstacle to become an independent data professional.
The bootcamps we have seen online and even live classes neglect this aspect and show you how to work with 'clean' data. But this isn't doing you a favour. In reality, it will set you back both when you are applying for jobs, and when you're on the job.
What you'll learn
The course provides the complete preparation you need to become a data analyst
Fill up your resume with in-demand data skills: Python programming, NumPy, pandas, data preparation – data collection, data cleaning, data preprocessing, data visualization; data analysis, data analytics
Acquire a big picture understanding of the data analyst role
Learn beginner and advanced Python
Study mathematics for Python
We will teach you NumPy and pandas, basics and advanced
Be able to work with text files
Understand different data types and their memory usage
Learn how to obtain interesting, real-time information from an API with a simple script
Clean data with pandas Series and DataFrames
Complete a data cleaning exercise on absenteeism rate
Expand your knowledge of NumPy – statistics and preprocessing
Go through a complete loan data case study and apply your NumPy skills
Master data visualization
Learn how to create pie, bar, line, area, histogram, scatter, regression, and combo charts
Engage with coding exercises that will prepare you for the job
Practice with real-world data
Solve a final capstone project
Recommended Course by 365 Careers
Excel for Data Science and Machine Learning [NEW COURSES]
Linear Algebra and Feature Selection in Python [NEW COURSES]
The Data Science Course 2022: Complete Data Science Bootcamp
Python for Finance: Investing Fundamentals & Data Science
The Product Management for AI & Data Science Course 2022
Credit Risk Modeling in Python 2022
Time Series Analysis in Python 2022
Customer Analytics in Python 2022
Deep Learning with TensorFlow 2.0 [2022]
Udemy Coupons - December 2022
Get Certified! IT Certification courses starting from $12.99.
Promotion Dates: 01/12/2022 - 01/01/2023
Clicks to
Redeem Udemy Coupon