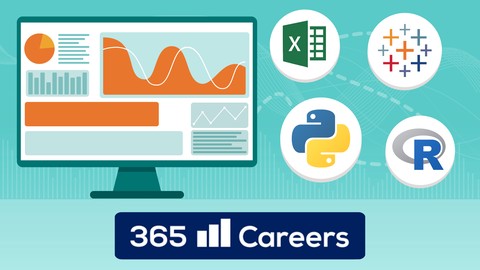 The Data Visualization Course: Excel, Tableau, Python, R
Data visualization in Excel, Tableau, Python, and R. Create stunning charts and learn the most in-demand skills
Created by 365 Careers | 5.5 hours on-demand video course
The Complete Data Visualization Course is here for you with TEMPLATES for all the common types of charts and graphs in Excel, Tableau, Python, and R! These are 4 different data visualization courses in 1 course! Whether your preferred environment is Excel, Tableau, Python, or R, this course will enable you to start creating beautiful data visualizations in no time! You will not only learn how to create charts, but also how to label them, style them, and interpret them. Moreover, you will receive immediate access to all templates we work with in the lessons. Simply download the course files, replace the dataset, and amaze your audience!
What you'll learn
Master data visualization
Learn how to label and style a graph
Interpret data
Select the right type of chart
Discover findings through data visualization
Create stunning visualizations
How to create a Bar chart
How to create a Pie chart
How to create a Stacked area chart
How to create a Line chart
How to create a Histogram
How to create a Scatter plot
How to create a Scatter plot with a trendline (regression plot)
Recommended Course
Tableau Certified Associate Exam Guide A-Z (incl. Datasets)
Excel for Data Science and Machine Learning
Udemy Promotional Code - September 2023
This will also bring up a list of coupons and promo codes that you can use to get a discount on Udemy courses
Learn Network & Security. Get complete video courses for as low as $12.99.
Promotion Dates: 09/01/2023 - 10/01/2023
Clicks to
Redeem Udemy Coupon