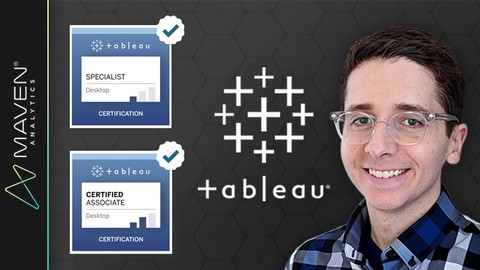 Tableau Certification: Desktop Specialist + Data Analyst
Complete guide to acing the 2021-2022 Tableau Desktop Specialist & Certified Data Analyst exams (2 full practice tests!)
Created by Maven Analytics, Dustin Cabral | Tableau & Data Visualization Expert | 6 hours on-demand video course
NOTE: This course was updated to reflect the latest and most up-to-date Tableau certification experience, including the brand new Certified Data Analyst exam!
This course is designed to help you build the exact skills you need to ace the Tableau Desktop Specialist and Certified Data Analyst exams, guaranteed. With hands-on projects, full-length practice tests, and free downloadable study guides, this is the ONLY course you'll need to prepare!
Throughout the course, you'll play the role of a BI Analyst for BankMaven, a financial institution based in the US. You'll use Tableau Desktop, and the skills you learn throughout the course, to design and build an executive dashboard from scratch. But don't worry, we'll guide you each step of the way, with crystal clear explanations and helpful pro tips to help you build expert-level Tableau skills.
What you'll learn
Develop the exact skills you need to ace your Tableau Desktop certification exams
Design histograms, treemaps, bullet graphs, funnels, and multi-axis charts
Analyze data with regression models, forecasting tools, control charts, and box plots
Define custom calculations using calculated fields, table calcs and parameters
Combine visuals to build dynamic, interactive dashboards and stories
Learn from a best-selling instructor, featured author, and award-winning Tableau developer
Recommended Course
Tableau Certified Associate Exam Guide A-Z (incl. Datasets)