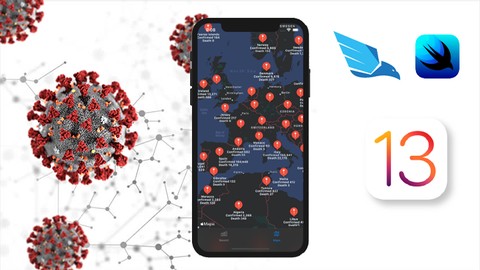 SwiftUI Covid19 Statistics tracking with REST API & Swift 5
Build COVID-19 statistics tracking app for iOS13, using SwiftUI and Swift 5.1, REST API and JSON Parsing
Created by David Kababyan | 3.5 hours on-demand video course
In SwiftUI Covid19 Statistics tracking with REST API & Swift 5 we are going to build COVID-19 Statistics tracking application. Unlike any other courses found on Udemy, I always teach full real world apps, when we finish with the course, you are going to have an app ready to post to AppStore. This SwiftUI Covid19 Statistics tracking with REST API & Swift 5 is NOT beginner level course. You need to know your way around the xCode, be familiar with it, you have to have basic knowledge in Swift, SwiftUI and application building. We are going to start from scratch and build the application together. All assets will be provided by me. I will type and explain every line of code. By the time we finish, you will learn a lot of new things even if you are experienced iOS developer.
What you'll learn
Building application in SWIFTUI
Working with 3rd party libraries
Working with REST APIs
Parsing JSON data
Creating Custom User Interface
Working with classes
Recommended Course
iOS 13 & Swift 5 – The Complete iOS App Development Bootcamp
The Complete React Native + Hooks Course [2020 Edition]
Udemy Promotional Code - May 2023
This will also bring up a list of coupons and promo codes that you can use to get a discount on Udemy courses
Learn Data Science. Courses starting at $12.99.
Promotion Dates: 05/01/2023 - 06/01/2023
Clicks to
Redeem Udemy Coupon